Neanderthal by John Dalton Review
St. Martins, 1997.
395 pp. ISBN: 0312963009
Mass market paperback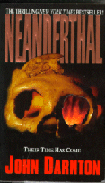 Two paleontologists and former lovers, Matt Mattison and Susan Arnot, are separately convinced to go on an expedition by a suspicious individual who gives them each a letter from a mutual friend and former professor who is now missing. The expedition into an unknown part of Russia to find the missing professor leads to a discovery that is a paleontologist's dream. However, the discovery has a downside as well and the reunited couple finds themselves using their wit and knowledge to solve a mystery and interact with creatures previously thought to be extinct.
John Dalton's Neanderthals are no longer the simple grunting creatures with little intelligence as was previously thought. In fact, they possess skills and abilities that man never imagined. Neanderthal is enlightening and thought-provoking while still delivering lots of adventure and excitement. You will find yourself rethinking many of your most basic assumptions about man and his evolution while rooting for the two adventurers through to the end. Well-researched, this science-fiction thriller will keep you on the edge of your seat.
Ordering information: Amazon.com.
---
More from Writers Write