Mystery/Thriller Book Reviews
Page Two of Two
Put a Lid on It by Donald E. Westlake
Mysterious Press, April, 2002
Hardcover, 247 pages
ISBN: 0892967188
Ordering information:
Amazon.com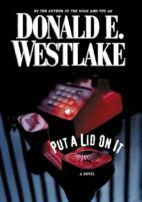 Career thief Francis Xavier Meehan is sitting in a federal prison reflecting on his simple truck robbery that went terribly wrong, when a) he was caught and b) the contents of the truck turned the crime into a federal offense. One day a visitor arrives who offers him a deal: a clear record if he will steal some very incriminating evidence which, if exposed, will send the president of the United States to jail as opposed to being sent back to the White House after the upcoming elections. The president's reelection committee has learned this much from Watergate: never hire an amateur to do a professional's job. Being the hardened cynic he is, Meehan agrees to do the job only if he gets to steal something else of value while he's at it (a guy's got to make a profit, right?) and the politicos must put his deal in writing, as vetted by his court-appointed, street smart attorney. Meehan sets out to pull off the theft, but it looks like his Washington cronies are just as incompetent as he suspected. Now there are multiple parties in the game and Meehan will have to play his cards very carefully if he wants to survive his latest and greatest caper.
No one does the fast and funny caper quite like Donald Westlake.
Put a Lid on It
pokes fun at political dirty tricks, big money, and the big lies that come out of the mouths of politicians. Meehan himself is quite a character: he has 10,000 rules for living, an amazing aptitude to size up people, and the ability to remain calm in a crisis. With the help of some pals in the business and his feisty lawyer, Meehan may just manage to pull off a job that will set him for life. Donald Westlake is a Mystery Writers of America Grandmaster, and he is equally at home writing comedy or darker novels. His pacing is fast, and his prose is lean and spare.
Put a Lid On It
is fast-paced, funny and very entertaining.
---
Without Fail by Lee Child
Putnam, May, 2002
Hardcover, 384 pages
ISBN: 0399148612
Ordering information:
Amazon.com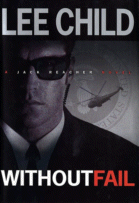 Ex-military cop Jack Reacher gets approached by Secret Service agent M.E. Froelich with an odd job offer: infiltrate the Vice-president elect's security and assassinate him. Froelich turns out to be the ex-girlfriend of Jack's dead brother, who was killed in a botched Secret Service operation. Remembering how highly her boyfriend spoke of his younger brother, Froelich decides that Reacher is just the man to perform an external audit of the new Vice-president's security. Someone has been sending death threats to the Vice-president, and they appear to be a legitimate threat. The kicker? The assassin may be a member of the Secret Service. Reacher calls in his old MP buddy, Frances Neagley, who is as talented as she is attractive. The more Reacher investigates the case, the more complex it becomes, especially as he gets to know his dead brother's ex.
Without Fail
moves Jack Reacher onto the national stage, as he goes head to head with assassins unknown and attempts to save the life of the second most important man in Washington. Reacher is still a bit of an enigma, but we learn a bit more of his back story in this book. Reacher is more than competent; his gift is seeing things that no one else sees. From the halls of the Secret Service offices to a Thanksgiving Day homeless shelter to the wilds of Wyoming, the book provides plenty of fascinating backgrounds as it clearly exposes the incredible difficulty of protecting a public figure from assassination. Lee Child presents us with a fast-paced, thrilling suspense novel which should vault to the top of the bestseller lists with ease. Highly recommended.
--Claire E. White
---
Mystery Book Reviews
Page One
|
Page Two
Click Here to Return to the Book Reviews Index
---
More from Writers Write
---