Mystery/Thriller Book Reviews
Page One of Two
Death of a Celebrity by M.C. Beaton
Mysterious Press, January, 2002
Hardcover, 259 pages
ISBN: 0892966769
Ordering information:
Amazon.com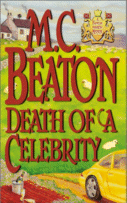 Constable Hamish Macbeth is determined to resist promotion, in order to remain the town constable of the Scottish town of Lochdubh. But when a murder occurs sometimes Hamish regrets his decision, because the CID promptly takes over any interesting case, relegating the unfortunate Hamish to the background. When the local tv station decides it needs a ratings boost, it hires barracuda newswoman Crystal French, whose specialty is humiliating villagers on her show. Naturally, Crystal gets murdered, and Hamish is determined to find the killer. There are any number of suspects to vet, but Hamish gets some help -- and more than a little aggravation -- from local reporter Elspeth Grant.
A trip to Lochdubh is a cozy treat that is best enjoyed with a hot cup of Earl Grey tea at your side. M. C. Beaton presents a delightful village mystery, with eccentric characters, beautiful scenery and, of course, the long-suffering Hamish who's most faithful companion is his dog, Lugs. Beaton does a wonderful job of portraying the charm of a Scottish village in this excellent addition to the popular series.
---
Midnight Runner by Jack Higgins
Putnam, April, 2002
Hardcover, 288 pages
ISBN: 0399148337
Ordering information:
Amazon.com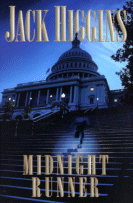 Sean Dillon is a British spy who works for an ultra-secret agency which reports directly to the prime minister. In his last mission, he defeated the powerful, wealthy and corrupt Arab/English Rashid family who were determined to assassinate the American president (See,
Edge of Danger
). The three Rashid brothers are now dead. But their sister, the beautiful and wealthy Lady Kate Rashid, countess of Loch Dhu and head of the Rashid Bedu tribe of Hazar, has sworn revenge on her brother's killers -- in spite of the fact that her brothers were criminal psychopaths who brought about their own demise. But Kate is more smarter and more successful than her brothers and plans to hit America where it hurts most: by crippling America's oil supplies, even if it means destroying her own massive oil fields. When American Senator and former war hero Daniel Quinn learns of his beloved daughter's death in England, president Jake Cazalet agrees to send Quinn to investigate the death and its relation to Kate Rashid's threats against the U.S. Joining Quinn are former IRA enforcer Sean Dillon, his boss, General Charles Ferguson, and Harry and Billy Salter, Sean's ex-gangster friends who are always up for a good fight. When Kate joins forces with her American cousin, Chauncey, things go from bad to worse, especially when the Rashid cousins head to the Arab country of Hazar to begin their operation to cripple America's oil supplies.
Always dependable, Jack Higgins knows how to craft a taut thriller, with enough action, plot twists and interesting characters to fill several books. Sean Dillon and crew are up against a formidable adversary this time; Lady Kate is equally at home in a bedu tent, a fabulous country home, or the most expensive of gourmet restaurants. The ending seems to leave room for more adventures, and that's nothing but good news for Higgins fans.
---
Mystery Book Reviews
Page One |
Page Two
Click Here to Return to the Book Reviews Index
---
More from Writers Write
---