Mystery/Thriller Book Reviews
The Internet Writing Journal
Page One of Two
Echo Burning by Lee Child
Putnam, July, 2001.
Hardcover, 368 pages.
ISBN: 0399147268.
Ordering information:
Amazon.com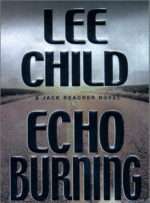 Jack Reacher is not interested in commitment of any kind. An ex-military cop, he owns only the clothes on his back, and that's the way he likes it. When hitchhiking in Texas, Reacher accepts a ride with Carmen Green, a beautiful Latina who lives on a big ranch in Echo, Texas with her daughter and her wealthy, racist in-laws. Her husband, who she claims regularly abuses her, is in jail for tax fraud but is scheduled to be released soon. Carmen tries to hire Reacher to kill her husband so that she can escape with her daughter. Naturally, he refuses, but does agree to sign on as a ranch hand (not that he knows anything about horses). The ranch in Echo, Texas is hot. Really, really hot -- both atmospherically and emotionally speaking. Long-buried secrets, hatreds and secret agendas abound. When a murder finally does happen, Carmen is arrested and admits her guilt. But Reacher isn't so sure she's guilty, and sets out to find a murderer with the help of a smart Harvard-trained local lawyer. The only problem is that the real murderer intends to take Reacher out of the picture -- permanently.
Anyone who has spent a great deal of time in South Texas knows that there is one overwhelming factor that influences life there: the horrific heat. Lee Child taps into this fact, and the merciless Texas summer sun beats mercilessly down upon the inhabitants of the fictional town of Echo, making the town seem like a little slice of Hell. When the characters aren't sweating, they're either submerged in cool water or ensconced in the kind of full-blast arctic air conditioning that only a big Cadillac can provide.
Set against this background is a story full of passion, lies and one man's search for justice. Jack Reacher himself is an unusual man. He roams the country, accountable only to himself and his own personal code of honor, helping people who can't seem to help themselves. Lee Child perfectly captures the flavor of South Texas, a place with heat so miserable that you'll burn your hands on the steering wheel of your car, even if it's parked in the shade. Reacher is an intriguing character: his sense of justice is strong, his humor is sly, and his motivations are enigmatic. This is the fifth entry in this excellent series, which will appeal to fans of crisp writing, vivid character portrayals and unusual settings.
--Claire E. White
---
Ashes of the Elements by Alys Clare
St. Martin's Press, April, 2001.
Hardcover, 244 pages.
ISBN: 0312261241.
Ordering information:
Amazon.com
In 12th century England, just outside the Hawkenlye Abbey lies the dark and mysterious Wealden Forest. One evening, a poacher comes to an untimely demise at the end of an expertly thrown spear with a distinctive flint point. Abbess Helewise informs the somewhat bumbling and narrow-minded local sheriff, who immediately blames the murder on the "Wild People," a band of travelers who come to the forest every June. Abbess Helewise thinks that there is more to the murder than meets the eye, and with her faithful friend, French knight Sir Josse d'Acquin, she sets out to investigate. Meanwhile, the Abbess is very concerned about the behavior of two young novices, and Sir Josse finds some strange evidence in the forest. Could the novices' odd behavior be linked to the strange doings in Wealdon Forest ?
Helewise and Josse are an engaging, if somewhat oddly-matched, investigating team. Helewise much admires her patroness, the strong-willed and intelligent Queen Elanor, and Josse seems able to rise above the narrow minded views of the roles of women so prevalent in medieval England, where an Abbey was one of the few places where women held real authority. Helewise is a strong and interesting character, and her approach to life in a man's world is thoroughly engaging. With an underlying, subtle humor and a vivid portrait of life in the 12th century,
Ashes of the Elements
will delight historical mystery lovers.
---
Mystery Reviews
Page One |
Page Two
Click Here to Return to the Book Reviews Index