Mystery/Thriller Book Reviews
Page Five of Five
Hasty Retreat by Kate Gallison
Dell, Apr., 1998.
Hardcover, 247 pages.
ISBN: 0440224101.
Ordering information:
Amazon.com.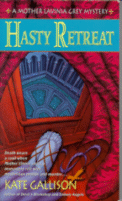 What Mother Lavinia Grey really needs is some rest and relaxation and a chance to get away from her problems at St. Bede's church. The opportunity to spend a few days at a quiet Episcopal monestary sounds heaven-sent. So with her good friend Deacon Deedee Gilchrist and a few parishioners, Mother Lavinia sets off for the retreat. Before long, Mother Vinnie begins to notice some odd happenings at the monastary which are interfering with her spiritual repose: mysterious comings and goings by the monks, beautiful furniture which appears and disappears and obnoxious guests . When elderly Brother Basil goes missing it's clear that something is amiss at the monastary, so naturally amateur sleuth and Episcopal priest Mother Vinnie takes on the challenge. What she finds is a tangled web of secrets and someone who is willing to commit violence in order to cover them up.
This is the fourth mystery by Kate Gallison starring priest and amateur sleuth Mother Vinnie. A light, cozy who-done-it with an ecclesiastical flair,
Hasty Retreat
is a charming book with a popular and amusing heroine. A delightful read for those who enjoy a religious amateur sleuth in the vein of Ralph McInerny's.
---
Murder Takes a Break by Bill Crider
Walker & Co., Oct., 1997.
Hardcover, 184 pages.
ISBN: 0802733085.
Ordering information:
Amazon.com.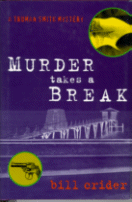 Galveston private eye Truman Smith hates missing person cases so when his friend Dino shows up on his doorstep asking him to investigate the disappearance during Spring Break of University of Texas student Randall Kirbo, Truman knows the case will be trouble. He's right. Kirbo was last seen at a party given at a beach house owned by notorious local crook Big Al. As Truman digs deeper he finds out that the body of a young girl that washes up on the beach is probably related to the Kirbo disappearance. Smith knows he's on the right trail when his digging elicits a violent response from Big Al's goons. As the case wears on, Smith must work to prove what happened that night at the beach party and keep himself and Dino out of harm's way.
Murder Takes a Break
is another pleasing entry from the hand of Bill Crider. His prose is as smooth as ever and the subtle humor and detailed backdrop of Galveston and South Texas add flavor to the tale. Fans of Truman Smith are in for a treat with his latest adventure.
---
Soma Blues by Robert Sheckley
Forge, Feb., 1998.
Trade Paperback, 222 pages.
ISBN: 0312865791.
Ordering information:
Amazon.com.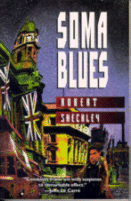 Ex-hippie and sometime p.i. Hob Draconian generally is pleased with life. After moving to the small Spanish isle of Ibiza during the 60s he decided to start the Alternative Detective Agency -- mostly as an alternative to steady employment. But clients actually showed up and Hob was in business. His latest client wants him to investigate the death of his brother from an overdose of a new drug called Soma, a powerful narcotic which has been making its way around the chic set in Paris. Hob's investigation will lead him from Paris to Ibiza to London and back again as he becomes embroiled in an international drug ring and the strange cult that uses the drug. Hob has only his wits and his not inconsiderable charm to assist him in cracking the drug ring and keeping himself alive.
A new Robert Sheckley novel is always cause for rejoicing for his fans who love his irreverent, clever style and fast-paced plots. Hob Draconian is a likeable eccentric who still hasn't gotten used to the idea of working for a living, but somehow manages to run a fairly profitable detective agency. His charm and aplomb as he runs into the inevitable cast of zany characters which people a Sheckley novel make for a fascinating read.
---
Mystery Reviews
Page One | Page Two | Page Three | Page Four

Return to Book Reviews Index