Mystery/Thriller Book Reviews
Page Two of Two
Hearse of a Different Color by Tim Cockey
Hyperion, February 2001.
Hardcover, 318 pages.
ISBN: 0786865717.
Ordering information:
Amazon.com.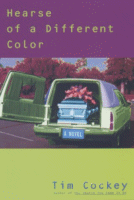 Professional mortician and amateur sleuth Hitchcock Sewell and his Aunt Billie believe they have the Kingman wake well in hand -- until someone drops the body of a murdered woman on the doorsteps of the funeral home. Hitch answers the police's questions, and then is ready to put the matter out of his mind, but his girlfriend Bonnie, the local weathergirl, has other ideas. Convinced that she has the soul of an investigative reporter trapped in the body of a mediocre weathergirl, Bonnie insists that she and Hitch investigate the murder. The murdered woman, Helen Waggoner, was a single mother with a double life as a waitress and porn star. The further Hitch digs into Helen's past, the more complicated things become, until it looks like Hitch may be the next victim if he doesn't solve this murder, and fast.
This is Tim Cockey's second Hitchcock Sewell novel, after his well-received debut,
The Hearse Your Rode In On
. Hitch, the droll, wise-cracking undertaker is certainly a new type of amateur sleuth with an offbeat way of looking at the world, and Bonnie, the weathergirl with big dreams, is a perfect foil for him. Once you get past the idea of a hero who is a mortician, Hitch grows on you, and his latest outing is most entertaining.
---
The Monk Who Vanished by Peter Tremayne
St. Martin's Press, January 2001.
Hardcover, 288 pages.
ISBN: 0312242190.
Ordering information:
Amazon.com.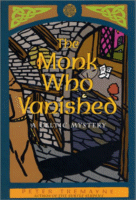 In A.D. 666, Sister Fidelma, a religieuse and dálaigh or advocate of the Irish courts, is visiting her brother Colgú, the King of Muman when disaster strikes. The King of Muman and his longtime enemy, the Prince of the Uí Fidgente, have come together to make peace. But a would-be assassin attacks, leaving booth the Prince and the King wounded. Naturally, each side believes the other is to blame, and the King calls in Fidelma to investigate the matter. Fidelma's investigation takes her and her friend, Brother Eadulf to the Abbey of Imleach. The Abbey has recently had its sacred relics stolen, and one of its monks is missing, leaving behind in his room a pool of blood. Could the two incidents be related? As Fidelma investigates, she finds political intrigue, treachery and a murderer who will not stop until his goals are achieved -- no matter what the cost.
The Monk Who Vanished
brings us Sister Fidelma's most personal case yet; if she does not find the traitor and assassin, her brother could literally lose his kingdom. Fidelma is a passionate and intelligent woman, whose enthusiasm sometimes gets the best of her. Nevertheless, she prefers to use her brain to solve a problem. And although she may not admit it to herself, she is more than a little fond of the Saxon monk, Eadulf, who at times seems to play Watson to her Sherlock Holmes in these investigations. Tremayne ups the ante with a bit of a cliffhanger at the ending, which is sure to have fans of Fidelma and Eadulf biting their nails with worry until the next book comes out. Peter Tremayne does a tremendous job of making 7th century Ireland familiar and accessible to modern day readers. His depiction of the lush beauty of Ireland with a most intriguing mystery makes for hours of blissful reading for historical mystery fans.
--Claire E. White
---
Mystery Reviews
Page One
|
Page Two
Click Here to Return to the Book Reviews Index