Mystery/Thriller Book Reviews
Page One of Two
Dim Sum Dead by Jerrilyn Farmer
Avon, April 2001.
Paperback, 256 pages.
ISBN: 0380817187.
Ordering information:
Amazon.com.
The ancient Chinese game of mah-jongg is now the hottest game among the Hollywood hipster crowd. Caterer Madeline Bean and her business partner Wesley are all set for the fabulous Chinese New Year's party they are catering for an elite mah-jongg club, with special treats and a real fortune teller. Then Wesley finds an antique mah-jongg set hidden in the wall of an old celebrity mansion that he's restoring. The mah-jongg set is stolen, and suddenly everyone seems very interested in getting their hands on the missing antique. The Chinese New Year's party goes off without a hitch, except for one thing: one of the guests is found murdered. Suddenly, Maddie and her friends are up to their saucepans in espionage, Hollywood legends and murder.
Dim Sum Dead
is the fourth entry in the popular Madeline Bean catering mystery series. Maddie is a lovable heroine, whose curiosity and increasingly complicated love life make for wildly entertaining reading. Jerrilyn Farmer is a successful comedy writer who has written for Dana Carvey and John Lovitz, and her senses of timing and knack for dialogue are flawless. The tone is witty, wry, sophisticated and funny, and underlying the story has a real heart. This is one of the best comedic mystery series on the market today; don't miss it.
--Claire E. White
---
Betrayal in Death by J.D. Robb
Berkley, March 2001.
Paperback, 355 pages.
ISBN: 0425178579.
Ordering information:
Amazon.com.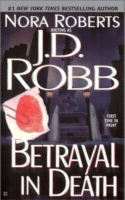 The secret is out: J.D. Robb is really internationally bestselling author Nora Roberts. (Well, it wasn't really much of a secret.) But now Ms. Roberts' picture is on the back cover and her name is listed over the title. The loyal fans of this excellent futuristic police procedural series have plenty to be happy about in this gripping 13th installment of the adventures of NYPD Lieutenant detective Eve Dallas and her billionaire dreamboat of a husband, Roarke. At the luxurious Roarke Palace Hotel, a maid enters one of the palatial suites to do the nightly turn down. Surprised by a ruthless serial killer who brutally rapes, tortures and kills her, the maid is left in the hotel room for the staff to find. Furious at the fate of one of his employees, Roarke demands to be let in on Eve's investigation, to which she reluctantly agrees. Eve and her team soon find out that they are up against the brilliant and sociopathic Sly Yost, whose real target may be Roarke himself.
All of the elements which make this series so popular are in full force in
Betrayal in Death
: a fascinating futuristic vision of New York City, fast pacing and the incredible chemistry between Eve and Roarke. We learn a bit more about Roarke's mysterious past, and even meet a friend from the old days -- a charming Irishman who hasn't given up the life of a top-class con artist. This is great stuff, and we can't wait to see Eve Dallas back in action in the next installment.
--Claire E. White
---
Mystery Reviews
Page One |
Page Two
Click Here to Return to the Book Reviews Index
---
More from Writers Write