Mystery/Thriller Book Reviews
Page Three of Three
Tough Cookie by Dianne Mott Davidson
Bantam, February, 2000.
Hardcover, 320 pages.
ISBN: 0553107232.
Ordering information:
Amazon.com.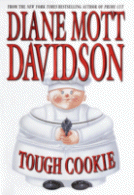 Aspen Meadows, Colorado caterer and amateur sleuth Goldy Schultz is back in this ninth entry in the popular culinary mystery series. Her catering business is temporarily shut down until she can repair the drains in her kitchen to the satisfaction of the local health inspector. Goldy has taken a temporary job hosting a cooking show for PBS which is taped at the lovely Killdeer Ski Resort. Short of the cash needed to fix her drains, Goldy and her husband Tom decide to sell some antique skis, but Goldy tactfully doesn't mention to Tom that the buyer is Goldy's ex-boyfriend, Doug Portman. Of course, Portman ends up murdered on the ski slope while Goldy is not far away. Goldy leaps into action to find the murderer, and soon she is up to her blender in intrigue, betrayal and danger. Nevertheless, she finds time to whip up some incredible treats, such as Chesapeake Crab Cakes and Chocolate Coma Cookies.
Dianne Mott Davidson just keeps getting better and better. This latest adventure has Goldy zipping down the ski slopes and navigating treacherous mountain roads while tracking a killer. Nobody does food descriptions better than Davidson, so if you're dieting steer clear of this book. Mystery lovers and those who don't mind a few vicarious calories will love this latest gourmet treat from the always dependable Davidson.
--Claire E. White
---
Thale's Folly by Dorothy Gilman
Ballantine, March, 2000.
Paperback, 217 pages.
ISBN: 0449003655.
Ordering information:
Amazon.com.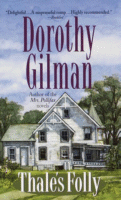 Andrew Thale had two mystery novels published to rave reviews before he was 25. But a traumatic incident left him with seemingly incurable writer's block. Desperate, he agreed to write the corporate newsletter for Meredith Machines, the family business in which his stuffy father, Horace, is vice-president. Horace, sends Andrew on a mission to look over some property he inherited from Harriet Thale, an elderly aunt. Horace is tired of paying taxes on the empty house and surrouning 25 acres. When Andrew arrives at the somewhat ramshackle old house, he finds that it is not unoccupied -- instead, the house is inhabited by the guests that Aunt Harriet took in over the years before her death. Gussie, the housekeeper-cook, the mysterious and elegant Miss L`Hommedieu, passionate Marxist Leo, and beautiful young Tarragon all live by their wits, just skirting the edge of abject poverty. Andrew stays with the odd group while his car is being fixed, and is quickly drawn into their lives. The old house hides a secret, and soon Andrew is drawn into the mystery and into helping his new friends save the house from being sold by his father.
Dorothy Gilman takes a break from her popular Mrs. Pollifax mysteries to write one of her charming non-series tales. Gilman's gift is the ability to create a magical atmosphere which entrances. Her quirky characters are always interesting and unique. This story is full of plot turns and interesting coincidences which make it a light, charming fairy tale which is sure to delight her legions of fans.
---
Mystery Reviews
Page One
|
Page Two
|
Page Three
Click Here to Return to the Book Reviews Index
---
More from Writers Write
---