Mystery/Thriller Book Reviews
Page Two of Four
Atlantis Found by Clive Cussler
Putnam, December 1999.
Hardcover, 544 pages.
ISBN: 0399145885.
Ordering information:
Amazon.com.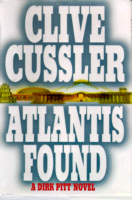 Clive Cussler gives his fans exactly what they want in his latest adventure novel,
Atlantis Found
. A strange black obsidian skull is found on a ghost ship locked in Antarctic ice. A World War II Nazi U-boat is spotted close by. Mysterious artifacts are found in an underground cave in Colorado. A translated ancient writing predicts that a comet might be heading straight for Earth, with Apocalyptic results. All of these bizarre events set the stage for a classic Cussler adventure tale.
The swashbuckling hero, Dirk Pitt, is the invincible special-projects director for the National Underwater and Marine Agency. Pitt is the working man's James Bond. No shaken martinis and blacktie functions for this guy. He lives in an old aircraft hangar, collects antique cars, has lots of gadgets, unlimited funding and plenty of experience and skill. He, of course, gets the girl every time.
When Pitt starts to connect all of the strange happenings and artifacts together, he finds himself in the middle of a group of Nazi fanatics who plan on setting up the Fourth Reich after the comet hits.
Sound a little over the top? Well, maybe. However, Cussler has a way of making it all seem believable, interesting -- and, of course, exciting. For non-stop action and pure entertainment, you just can't beat Clive Cussler.
--James A. White, Jr.
---
The Cat Who Robbed a Bank by Lilian Jackson Braun
Putnam, Jan., 2000.
Hardcover 256 pages.
ISBN: 0399145702.
Ordering information:
Amazon.com.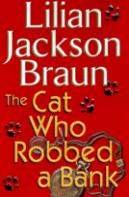 In Moose County, 400 miles north of everywhere, the residents are looking forward to an exciting September. The elderly ladies are dying their hair a fresh shade of blue and ordering special perfume for the annual visit of Mr. Delacamp, the jeweler from Down Below (Chicago) who discretely purchases and sells estate jewelry. The town is also excited about the Highland Games and the re-opening of the local historic hotel which was bombed just last year. Jim Qwilleran, local millionaire philanthropist and former impoverished reporter (before he inherited the vast Klingenschoen fortune) visits his friends and looks forward to all the local activities. When Delacamp is found dead in his hotel room, and his attractive young "niece" is missing, all of Qwilleran's reporter's instincts are aroused. Qwill sets out to investigate with the help of his Siamese cats: the brilliant Koko and the lovely Yum-Yum.
This is the 23rd installment in this long-running series, and it's a charmer. We learn some fascinating details about Qwill's parents, and the cats perform their feats with aplomb. Readers love Pickax City and its handsome, gruff leading citizen, Qwill, Braun's greatest creation. So settle down with a cup of your favorite beverage and enjoy.
---
Mystery Reviews
Page One | Page Two | Page Three | Page Four

Click Here to Return to the Book Reviews Index




---
More from Writers Write
---