Mystery/Thriller Book Reviews
The Internet Writing Journal
Page Four of Four
Cat In A Golden Garland by Carole Nelson Douglas
Forge, Nov., 1997.
Hardcover, 352 pages.
ISBN: 0312863861.
Ordering information:
Amazon.com.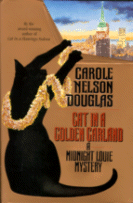 Midnight Louie, the tough-talking gargantuan black detective tomcat, is back again in this eighth entry in the popular series. It's Christmastime and Louie and his human cohort Temple Barr, a publicist, have been invited to New York where Louie is up for a lucrative role in a television ad for the latest cat food. The competition is stiff - and so is the body found wedged in the fake chimney at the ad agency's annual Christmas party. Of course, Midnight Louie finds time to investigate the murder while doing his best to walk off with the plum TV role, helping Temple with her personal life which is suffering due to the disappearing act of her magician boyfriend, and assisting his own lady love, the lovely Yvette who is in danger of losing a lucrative TV contract as chief spokescat when she violated the morals clause in her contract by becoming an unwed mother of several adorable kittens.
Will Louie find the murderer? Will Tess find love with her mysteriously missing ex? You can be sure that Louie will be up to his whiskers in adventure and intrigue in this charming entry in the madcap series. The perils of Temple as she carts Louie around New York city are quite funny, Louie's commentary is insightful and ironic and the story of one of Temple's suitors (an ex-Catholic priest coming home for the first time to his abused mother) makes a moving counterpoint to the lightness of Louie's escapades. An extremely entertaining read.
---
The Dog Who Knew Too Much by Carol Lea Benjamin
Walker & Co., Oct., 1997.
Hardcover, 256 pages.
ISBN: 0802733123.
Ordering information:
Amazon.com.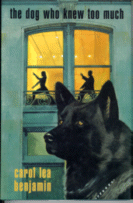 New York private investigator Rachel Alexander and her faithful canine companion Dashiell are back in this second installment of Carole Lea Benjamin's medium boiled detective series. This time Rachel is called upon by her aunt and uncle to investigate the death of their daughter and Rachel's cousin, Lisa. Lisa apparently committed suicide in front of her black Akita by jumping from the window of the dojo where she was studying the marital art of t'ai chi after leaving a cryptic suicide note which read "I'm sorry. Lisa." But the more Rachel finds out about her seemingly perfect cousin and the odd behavior of the Akita, the less she believes that she willingly leapt out of the dojo window that night. So Rachel decides to step into Lisa's shoes to discover the truth. Living in her apartment, wearing her clothes and jewelry and even falling for her ex-boyfriend, Rachel soon discovers that a lot of people could have had it in for Lisa. When Rachel's ex boyfriend is found dead and a mysterious figure starts stalking Rachel and sending her bouquets of roses she realizes that she too may be in danger from whoever killed her cousin. It's up to Rachel and her newfound insights from the study of t'ai chi to solve the baffling mystery and to protect her own life from a crazed killer.
The Dog Who Knew Too Much
is a satisfying follow-up to
This Dog For Hire
. Rachel and Dash are an appealing duo. The psychological studies of the people who surrounded the ill-fated Lisa are well-drawn and the mystery is intriguing. A treat for dog lovers and mystery lovers alike.
---
Mystery Reviews
Page One | Page Two | Page Three

Return to Book Reviews Index