Mystery/Thriller Book Reviews
Page Four of Four
Murder Off The Record by Marnie Schulenburg
Write Way, July 1998.
Hardcover, 304 pages.
ISBN: 1885173504.
Ordering information:
Amazon.com.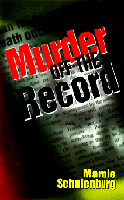 Ed Fountain, the Editor of a small-town Wisconsin newspaper, lost his only daughter when she was brutally murdered by a serial killer. In commemoration of the one year anniversary of her death, Ed convinces his newspaper to impose a blackout on reporting news of criminals who use the media to further their own ends, especially those who commit murders so that they can broadcast their own twisted views to the public using the media, who is only looking for ratings. Ed asks for help from newly-hired consultant Sabina Shaw who is nervous enough about working for the wealthy, handsome publisher of the paper, Matthew Drum, who just happens to be courting her mother. After the moratorium is imposed, a disturbed individual calling himself The Poet (who worships the great serial killers of our times: Bundy, Dahmer et al.), commits murder and demands that the paper tell his story or the killing will go on. The paper refuses the criminal's demands, and another murder happens, sparking a national debate on this unique twist on the First Amendment claimed by the paper: the right NOT to print the news. When the killer decides to go after Sabina, she is forced into the case, allying herself with some unusual and colorful characters in order to stop a demented murderer from striking again.
First time author Marnie Schulenberg hits the mark with this fascinating thriller which explores the power of the media and its effect on the world around it. Sabina is a likeable heroine, although her choices are not always the wisest course of action. A subplot with Sabina's unappealing ex-husband seems somewhat extraneous, but other than that the story is tightly woven. An appealing debut.
---
Play Dead by Leslie O'Kane
Fawcett Books, December 1998.
Paperback, 261 pages.
ISBN: 0449001598.
Ordering information:
Amazon.com.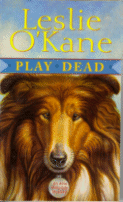 Dog therapist Allie Babcock's first client is a depressed collie who refuses to eat. It turns out that the dog's previous owner committed suicide, although Allie starts to think that it was murder and that the collie witnessed the crime when everyone she meets seems to know all about her new client and seems eager to get their hands on the charming canine. As the violent incidents escalate, Allie must find a murderer in order to save two lives: a lovable dog and her own.
This is the first in a new mystery series by the author of the popular Molly Masters series. Unlike Molly, Allie Babcock is single and her dating trials and tribulations make for hilarious reading. Allie's two dogs are wonderful supporting players and Allie's relationship with her mother is quite entertaining. A charming debut of another top-notch series by Leslie O'Kane.
--Claire E. White
---
Prime Cut by Diane Mott Davidson
Bantam, September 1998.
Paperback, 305 pages.
ISBN: 0553100017.
Ordering information:
Amazon.com.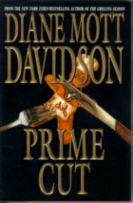 Intrepid caterer and crimesolver Goldy Schultz is back in another mouthwatering adventure. We find Goldy surrounded by problems: her kitchen is a disaster after a crooked contractor did half the job and decamped, her husband is suspended by his new boss, the unscrupulous District Attorney, and a new caterer Craig Litchfield is undercutting her prices and stealing her clients. The only bright spot is that her ex-husband, unaffectionately known as The Jerk, is safely behind bars for awhile. Business is slow, so Goldy jumps at the chance to work with her old mentor, Chef André, in catering an extended fashion shoot, complete with anorexic models and temperamental photographers. As she works alongside Chef André, listening to his stories of serving in the French Resistance, she wonders how things could get any worse. They do. George Eliot, the rascally contractor who ruined her kitchen is found dead in the house of Goldy's good friend, who is arrested for the crime. Goldy sets out to find the real murderer, while preparing for a tasting party which will determine which caterer will land a lucrative catering assignment, and which is a crucial job which could determine if her catering business will survive.
Diane Mott Davidson has concocted yet another delectable treat with her latest mystery. Goldy is, in turns, a wonderful mother, a brilliant cook, and somewhat neurotic -- especially when someone taints her food at the fashion shoot. The recipes for such mouthwatering dishes as Savory Florentine Cheesecakes, Models' Mushroom Soup, and Jailbreak Potatoes are included -- dieters should proceed with caution.
---
Mystery Reviews
Page One | Page Two | Page Three | Page Four

Click Here to Return to the Book Reviews Index




---
More from Writers Write