Mystery/Thriller Book Reviews
Page One of Four
10 Lb. Penalty by Dick Francis
Jove, October 1998.
Paperback, 306 pages.
ISBN: 0515123471.
Ordering information:
Amazon.com.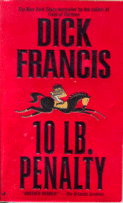 Seventeen year old Ben Juliard wants more than anything in life to be a successful jockey. But his hopes are dashed when the stable owner, Vivian Durridge, fires him summarily for false charges of drug use. Ben subsequently finds out that his father, George Juliard, was behind the firing, and that his father wants Ben to come work with him during his upcoming campaign to win a seat in Parliament. Juliard, Sr. faces a number of obstacles to his goal of being a member of Parliament. Orinda Nagle, the widow of the recently deceased Hoopwestern MP, is furious that she wasn't chosen to represent the party after her husband's death, and is determined that everyone knows it. Alderney Wyvern, Orinda's strategy advisor, stirs up trouble whenever possible, as well. Tabloid journalist Usher Rudd sets his sights on George and embarks on a smear campaign to lose him the election. When someone takes a shot at George, Ben realizes that someone wants his father out of the election -- permanently. Reluctantly putting his dreams of racing behind him, he spends his last year before college on the campaign trail with his father as a bodyguard, trying to find out who the killer is before he strikes again.
10 Lb. Penalty
features a different protagonist than Francis usually creates. Ben Juliard, although he loves horses, is not a top-notch rider, only a somewhat talented amateur, and he is only seventeen years old. The story is told through his eyes in first person narrative, with a fresh, funny and sometimes insightful outlook, making for an entertaining story. The focus of the book is the relationship between father and son, which Francis explores with wit and insight. The background of British politics is intriguing, and the plot is fast-paced. Another delightful entry from the prolific Dick Francis.
---
Crescent City Kill by Julie Smith
Ivy Books, September 1998.
Paperback, 356 pages.
ISBN: 0804113971.
Ordering information:
Amazon.com.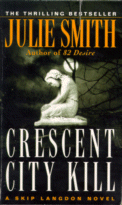 New Orleans Police detective Skip Langdon has a new force to deal with: a mysterious group calling itself "The Jury," a vigilante organization dedicated to executing people who have escaped prosecution. By killing people who committed heinous crimes, but who went free (such as the white supremacist murderer of the new black police superintendent and the O.J. Simpson-like character who killed his wife but was acquitted) the group is gaining public sympathy and support. But Skip Langdon is not so sure that The Jury is acting on its own. She senses the presence of her old arch-enemy, the psychotic and totally evil Errol Jacomine. As the case progresses, and the Jury commits more brutal crimes, Skip knows she is in for the fight of her life as she once more matches wits with her old adversary. Skip will face her greatest challenge yet as she struggles to stop a madman bent on destruction.
Crescent City Kill
is another gripping installment in this popular series starring police detective Skip Langdon. As always, the writing is crisp and clean and the steamy New Orleans background with its sights, sounds and colorful characters provides entertaining reading. Another must-read for Smith fans.
---
Mystery Reviews
Page One | Page Two | Page Three | Page Four

Click Here to Return to the Book Reviews Index




---
More from Writers Write