Mystery/Thriller Book Reviews
The Internet Writing Journal
Page Two of Two
Danger Zone by Shirley Palmer
Mira, October, 2002
Hardcover, 304 pages
ISBN: 1551669439
Ordering information:
Amazon.com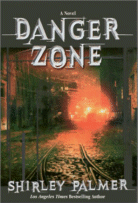 Maggie Cady seems to have it all: the perfect house, the perfect husband, ex-cop Sam, and the perfect son, four year-old Jimmy. One Sunday morning, Maggie returns home from church to find that her husband has been shot at and her little boy has been abducted. The police and Sam immediately begin to investigate; then they discover that Maggie has disappeared in the confusion. As Sam goes through Maggie's things to find out where she went, he finds tantalizing clues that tell him that Maggie has some very big secrets in her past. Nearly overcome with grief and confusion, Sam is nevertheless determined to track Maggie down to get some answers. Maggie knows exactly who has kidnapped her son and heads to New York to get him back. But Sam is hot on her trail -- a trail filled with the Irish mob, the Italian Mafia, deep family secrets -- and lots of violence.
Shirley Palmer examines the darker side of family ties in this exciting new thriller. Maggie Cady is an appealing character who must face the terrifying past she thought that she had left behind forever, in order to save the son she loves so desperately. Her husband Sam is a well-drawn character, who definitely has mixed feelings about the wife he thought he knew so well. The action scenes are taut and well-choreographed, and the pacing is brisk. The Mafia backdrop is fascinating, and the romance between Sam and Maggie rings true. This is an excellent and very entertaining thriller that will have you reading late into the night.
---
Long Lost by David Morrell
Warner Books, May, 2002
Hardcover, 320 pages
ISBN: 0446529400
Ordering information:
Amazon.com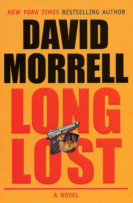 Brad Denning is a successful architect with a wife and son. Life is pretty good, until one day a man shows up claiming to be his long-lost brother Petey. Brad has always felt guilty over his little brother's disappearance, which happened when they were both children. Petey always followed Brad around. One day Brad told Petey to get lost and not follow him and his friends. Petey rode away on his bicycle and was never seen again. Now he's reappeared in Brad's life, looking quite haggard. But Brad is so excited to see him that he takes the stranger into his family. Petey knows all kinds of details that only his brother would know…surely he's the real thing? Petey seems to be integrating into the family fairly well, until the family heads off on a camping trip. Petey pushes Brad off a cliff, leaving him for dead, and kidnaps Kate and their son Jason. Brad survives and calls in the FBI who tells him that "Petey" was really a con man named Lester Dant. With the assistance of a p.i. who is a retired FBI agent, Brad sets out to find his family, regardless of the fact that the police and FBI seem to have given up. As he digs into the life of Lester Dant, trying to find out who he really was, he steps into the horror that was his little brother's life, and towards an unknown future in which his own wife and little boy may not even be alive.
Long Lost
is an absolutely chilling suspense novel. Brad Denning, the man who never gives up on finding his family, is a complex and believable character: he's an ordinary guy who has been placed in an extraordinary situation. And "Petey" is a vivid character that will repulse you, even as you feel incredible sympathy for what he endured as a child. This is a fast-paced, thought-provoking and immensely entertaining novel.
---
Water Touching Stone by Eliot Pattison
St. Martin's Press, June, 2002
Paperback, 560 pages
ISBN: 0312982178
Ordering information:
Amazon.com
Eliot Pattison's debut novel,
The Skull Mantra
, introduced an unusual new investigator to the ranks of detective fiction. Shan Tao Yun was once an esteemed investigator in Beijing, who was sent to the Tibetan gulag after he refused to drop a financial investigation which would have been politically embarrassing to the Communist party leaders. Tortured and starved, he only survived his ordeal because of the help he received from the imprisoned Tibetan Buddhist monks he came to know and respect. After assisting in an investigation, he was unofficially released, and has been in hiding in Tibet in an Buddhist sanctuary. In
Water Touching Stone
, Shan is asked by the monks to travel to northern Tibet to solve the mystery of a murdered teacher, whose students are also being murdered one by one -- some say by a terrible demon. Shan agrees to the dangerous journey, and sets out with an elderly lama, a young Kazakh woman, a bitter member of the Tibetan resistance and various other companions. Shan's journey takes him close to the border with China, which is populated with the Moslem Kazakh clans, known for their skills with and love for horses, secret Buddhist monasteries, corrupt Chinese officials, and Russian smugglers. His investigation will involve much hardship, but he will discover many wonders along the way.
The international news media virtually ignores the sufferings of occupied Tibet. The Chinese government rules the country with an iron hand, and is still following a ruthless campaign to wipe out the native cultures and religions of the area. The government has even kidnapped and is holding the panchen lama -- the person who will lead the search for the next reincarnation of the Dalai Lama, after the current lama dies. Eliot Pattison uses this horrific background to create a fascinating mystery series. Pattison uses his considerable skills as a writer to shows the beauty and mystery of Tibet, and the fierceness and pride of a people who have been brutally subjugated by a corrupt and utterly evil government. This is an outstanding and absolutely fascinating mystery series.
---
Mystery Book Reviews
Page One
|
Page Two
Click Here to Return to the Book Reviews Index