Love Lies Bleeding by Susan Wittig Albert Review
Berkley, Nov., 1997.
Hardcover, 320 pages.
ISBN: 0425159698.
Ordering information:
Amazon.com.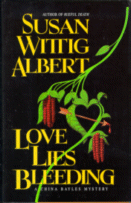 China Bayles, one-time attorney turned herbalist and amateur sleuth is back in this newest entry in the popular mystery series. Texas Ranger Roy Adcock is found murdered, shot with his wife's gun the same day that his wife Dolores had been hired to do some work for China. This time out the murder mystery hits a little closer to home. After China tells longtime love McQuaid about it, he reacts in a strange fashion and later she overhears a mysterious phone conversation between McQuaid and an unknown woman. Is McQuaid having an affair? What is his interest in the murdered Ranger? China sets out to find the answers to these and other questions. Along the way she will face betrayal of trust, disillusionment and corruption both in her personal life and in the life of the murdered man.
A watershed event for China Bayles, the murder of Roy Adcock will ultimately make her face the toughest decisions in her life, especially about her relationship with McQuaid. Fans of the series will be so curious about what happens next after the cliffhanger ending that they may end up storming the Hill Country demanding that the author write the next installment in the series -- immediately. A fascinating and unusual installment in an excellent mystery series.
---
More from Writers Write
---