Lord Demon by Roger Zelazny and Jane Lindskold Review
Lord Demon
by Roger Zelazny and Jane Lindskold
Eos, August, 1999.
Hardcover, 288 pages.
ISBN: 0380973332.
Ordering information:
Amazon.com.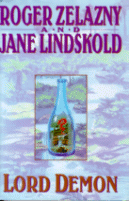 Kai Wren, one of the most powerful Demons banished to Earth from Origin five millennia ago, is renowned for his glassblowing and artistry. He has just finished his greatest creation -- a beautiful glass jar which can hold an entire universe -- when tragedy strikes. His faithful human servant and friend is murdered by some inferior demons. Betrayed by a close friend, Kai Wren is transformed into a human with his beautiful bottle home trashed and his magical guardian fu dogs kidnapped. Suddenly Kai Wren is quite interested in the goings on in the demon community, and fast becomes involved in intricate and complex political games in which he will suffer a great betrayal. With the help of a human magician, Li Paio and his granddaughter, a feng shui master, Kai Wren must stop an evil demon from taking over Origin and murdering Kai and his friends.
This is the second of Zelazny's books which were left unfinished at his death and which were completed by his biographer and friend, the talented Jane Lindskold (
Changer
, Eos). Lindskold does a brilliant job here. The pacing is fast and funny, the world is Zelazny-unique and the characters are fascinating. This is truly one of the most entertaining fantasies to come along in quite awhile. Highly Recommended.
---
More from Writers Write