Interview with Leslie O'Kane
by Claire E. White
Mystery novelist Leslie O'Kane grew up in upstate New York. She began college in Oswego, NY as an art major, but soon switched to creative writing and aspired to become a novelist. At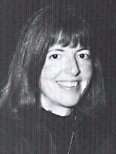 age 19, deciding that she'd led a boring life with nothing worth writing about, she dropped out of college and moved to Boston where she worked as a cocktail waitress at night and went to college at Suffolk University by day, majoring in journalism. One night, the bar was robbed and she was taken hostage for five hours. Now armed with something to write about -- but disenchanted with the city -- she soon graduated, packed up her Toyota Corolla, and headed west, intending to move to California to work in a vineyard. En route, she visited Boulder, Colorado -- and never left. Although she never lost her desire to write novels, the necessity of earning a living took precedence. After earning a two-year degree as an electrical engineer technician, she was hired by IBM to repair computers, where she met her husband, Mike. She subsequently worked as a technical writer and ran a freelance business. Around the time her second child, Andrew, was born, she began writing again, promising herself that she'd quit if she still wasn't published by the time her son graduated first grade. A contract offer for her first book,
Death and Faxes
, came four months before Andy finished first grade. She never looked back.
Today, Leslie writes two series for Ballantine Books: a humorous mystery series which stars surburban mom, cartoonist and amateur sleuth Molly Masters, and a new series about a dog psychiatrist set in Boulder, Colorado, which will be introduced in the Fall of 1998. She also pens a monthly advice column for the local chapter of Sisters in Crime, is active in Rocky Mountain Fiction Writers, and is an avid golfer. We talked to Leslie about her new Molly Masters mystery,
The Cold Hard Fax
(Fawcett Books, 1998), how she crafts her characters and how she got her start as a mystery writer.
You started out as an art student -- what made you switch to writing?
The D- I got in my very first college art class had a lot to do with that decision. My art professor took a look at my work the first day of class and said, "Stick with me, kid. I'll make you famous." But that was the last nice thing he ever said to me, once I foolishly went toe-to-toe with him on almost everything. At the same time, I was taking a creative writing class from Cambell Black, an author of some success, and he inspired me without (from a seventeen-year-old's perspective) being too insistent on his way being the only way.
How did you end up as a technical writer?
That was the only way I could think of to earn a decent living for myself as a writer. I've always had more natural ability in math and science than in language arts anyway, it's just that I preferred language arts. So I called a computer company here in Colorado and asked to speak to the manager of the technical writers and asked him what I would need for him to consider hiring me. He said he'd want to see a technical degree in addition to my journalism degree, so I went to school for twelve months at an electronics technicians' college, graduated third in my class, and went on to work at IBM, repairing computers. It took me another three years to get out of repair and into tech writing, and I had to quit and get rehired as a consultant in the process, but I made it. I also met my husband at IBM, so the journey was very worthwhile.
What prompted you to start writing mysteries?
I've always been able to figure out whodunnit in TV shows and movies and am a natural plotter as a writer, as opposed to a proclivity toward character. I'd written my first semi auto-biographical mainstream novel, which a lot of first-time novelists begin with, and was beginning work on my second novel. I attended a seminar by Diane Mott Davidson on how to write a mystery and started to think that maybe that was something I could do. Afterwards, I bought her book, and as she was signing it, she asked if I was going to write a mystery myself, and I said yes. The next month, I was invited to join a critique group in which she was a member.
How did your first mystery book come to be published?
When I joined the aforementioned critique group, it was 1991. I was writing a serious mystery that featured a psychiatrist, and I'm a natural class-clown type, so it wasn't working. ( Imagine a humorous, joke-cracking psychiatrist and you'll see why.) Late in 1994, the head of the critique group called me and urged me to stop writing that series and start on something new. I wrote the first chapter of
Death and Faxes
and read it to Micheal Seidman, editor at Walker, in an editor critique group at a conference a couple of weeks later. He said he loved it and asked me to send him the complete book as soon as he was moved into his new office in six weeks. I said I would, neglecting to mention that I had no book to go along with the opening. I wrote the book and sent it to him on time, but I can't write that fast, and he justifiably rejected it. I then took four months to rewrite it correctly, and the agent I found shortly afterwards, sold it to the second editor she'd sent it to.
Do you still draw cartoons?
Yes, but left to my own devices, I would only doodle. I draw cartoons occasionally now only for my website and various other self-promotion projects I do for the Molly Masters series.
Your Molly Masters series is known for its appealing humor. Was that intentional when you started the series?
Absolutely. (And thank you.) My sense of humor can get me through darn near any miserable experience. I got a terrible concussion once in a sledding accident and my own mother was laughing so hard at my jokes that she kept smacking me in the head with the icebag. The great thing about writing fiction is you can use all of your own painful experiences for fun and profit...plus put your protagonist through even rougher paces.
Your new book, The Cold Hard Fax stars cartoonist, amateur sleuth and mother of two, Molly Masters. How much of you is in Molly?
She's ninety-percent me, with the ten-percent difference being that if I were to find a dead body, I'd call the police and get the heck out of Dodge. As a sleuth, Molly can't do that.
What gave you the idea for the plot in The Cold Hard Fax?
One afternoon, I was home with my two children in the living room of the house that we'd owned for eight years. The doorbell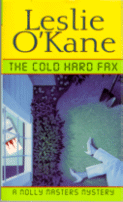 rang, and there stood a large, imposing-looking woman with paparazzi-style camera gear hanging from her neck. She said she was the former owner of our house and asked if she could come in and take some pictures. I was caught so off-guard that I said, "Sure," and she came in and forever captured my messy house on celluloid. Then she proceeds to take me on a tour of my backyard and tells me that if I just got out there and scrubbed my flagstones, the pink color would return. I told her that there was nothing that was going to make me get outside and wash my rocks, thank you very much. She left and sent a letter informing me that she'd hired a lawn service, at my expense, because I wasn't doing a good enough job maintaining the place. I cancelled the service and then did what any self-respecting mystery author would do: I turned her into a man in drag and shot her dead on my lawn.
So the neighborhood in the story based on a real life neighborhood you've lived in?
Um, guess it's too late to deny that one. Yes.
Can you give us a glimpse into Molly's next adventure?
In
The Fax of Life and Death
, Molly comes back to Colorado to lead a greeting-card writing retreat in the mountains. The conditions of their cabins are less than ideal and one of the members of her class slip her an anonymous death threat.
I understand you belong to a critique group of other authors. How does the group work? Is it helpful with your work?
I belong to two critique groups and they are both absolutely invaluable. We read a chapter of our respective work and critique it. I usually bring whatever chapter I'm struggling with the most at that time. Then many of them read and comment on the entire manuscript, once it's complete. They are all wise authors themselves, and they have the distance from my work to see the problems that I might miss otherwise.
Have you ever experienced writer's block?
Writer's block is, in my opinion, a euphemism for poor planning. I force myself to write five pages a day, five days a week (unless I'm under deadline in which case it's seven days). The only time I can't write is when I have no idea what comes next. As long as my outline is reasonably on target, I have no problem. Occasionally, I get myself under such a gun that I don't have an outline for a while, and that's when the writer's block comes into play. To overcome it, I have to be very disagreeable to myself and insist that I'm going to outline what comes next, then write my five pages. It's just like forcing yourself to eat your brussell sprouts, first thing.
Let's talk about point of view. The Molly Masters series is written in first person from Molly's viewpoint. Why did you choose 1st person?
It's easier to develop intimacy with your main character and, as a result, humor through first person than third.
What are your pet peeves when reading other mysteries?
I don't care for the bungling police officer technique, glaringly obvious mistakes to investigative procedures, or writing that is so convoluted, it gets in the way of the plot. I also personally do not care for books that take the easy route toward tugging on readers' heartstrings, such as children in danger. Now that I'm a mother myself, I have to live with knowing how vulnerable I am through the well-being of my children, and when I read mysteries, I look for escape.
What is the strangest thing that's ever happened to you at a booksigning?
I can think of two. One is when I was at a Borders, and they had a new, nervous employee introduce me by saying, "Leslie
"Figure out what's unique about you, and make that a focal point of your book. Don't pay attention to trends or try to write what you think will sell; write what you like to read and create a main character you want to spend time with."
O'Kane will be reading and
disgusting
Death and Faxes
." The second was the time an old man approached me at my tables in WaldenBooks and asked for directions to a hardware store. I told him I was sorry, but didn't know where the store was. He shouted, "What business do you have sitting here selling books, when you don't know anything!" Shortly thereafter, an elderly woman came up to the table, looked at me, looked at the picture of me on the book jacket, then back at me, and again at my picture. She slammed the book down and said, "You're too young to write books!" and shuffled off. I'm convinced those two were married. And deserve each other.
What advice would you give a new author for his or her first booksigning?
Make sure your first signing is in your hometown, surrounded by friends, supported by your independent, local bookseller. It'll feel like a slice of heaven. You'll need that one to look back on, when the shoppers get cranky or, worse, come disguised as empty chairs.
What is the greatest challenge you have faced in your career as a mystery writer?
Getting the first one published, frankly. Closely followed by the time I decided to change publishers and had to wait several months to see if my entire career was 1996.
How useful is the Internet for mystery writers?
Very. I love the Net. I can do research in minutes that would take me days to uncover at the library. Plus, I've made friends in fellow mystery readers and writers through the Net that I might never have met otherwise.
What do you like to read?
Christine T. Jorgensen's Stella the Stargazer series is a big favorite, as is Francine Mathew's Merry Folger series. Both are written by friends of mine, and I doubt I'd have discovered them as soon otherwise. I also love Minnette Walters and John Lutz, G.D. Gearino, and, in non-mystery, Anne Tyler, Gail Godwin, and Joanne Greenberg.
Where The Road Goes
, by Ms. Greenberg is perhaps the best book I've ever read.
What do you like to do when you're not writing or taking care of your family?
I'm tempted to say "sleep," but I love going to movies, playing golf and tennis, and, of course, reading. My absolute favorite activity is talking with friends, which, to be honest, is the only real regret I have about being an author. I don't have the time to socialize that I might otherwise have.
What advice would you give to an aspiring mystery author hoping to get published for the first time?
Read like a maniac. You can't write if you don't know what's already out there. Write first and foremost from whom you are. Figure out what's unique about you, and make that a focal point of your book. Don't pay attention to trends or try to write what you think will sell; write what you like to read and create a main character you want to spend time with. Then, once the book is done to the best of your ability, find an agent by word-of-mouth...talking to other authors about their agent. Beyond that, hang in there. It's difficult.
Tell us about your new series about the dog psychiatrist.
Allida Babcock is her name. She's in her early thirties and is single, and has just moved back to Colorado, where she grew up. In the first book,
Play Dead
, her new client is a depressed collie that used to belong to a woman who committed suicide, but Allida and the collie's new owner come to suspect that the dog witnessed the woman's murder.
Play Dead
will be published on October 1, 1998 by Ballantine (Fawcet Gold Medal).
---
More from Writers Write