Mystery/Thriller Book Reviews
The Internet Writing Journal
,
June 2006
The Last Spymaster by Gayle Lynds
St. Martin's Press, June, 2006
Hardcover, 464 pages
ISBN: 0312301596
Ordering information:
Amazon.com
|
Amazon.co.uk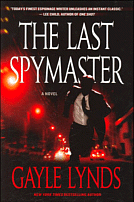 Elaine Hunter is a CIA operative known as a "hunter" - someone who tracks down and apprehends people who don't want to be found, such as rogue CIA agents and master criminals. Elaine is given the job of tracking down legendary CIA Cold War spy Jay Tice, who has somehow managed to escape from a maximum security federal prison. The brilliant Tice was convicted of being a double agent at the end of the Cold War and is now despised as being a traitor. Elaine's specialty is getting inside the heads of those she hunts, so she gets to work learning all she can about the brilliant spymaster. But the more she learns about Tice, the less she understands why Tice turned traitor. As she gets closer to Tice, she suddenly finds herself surrounded by a new set of players on the field, many of whom seem set on eliminating both her and Tice. On the run, cut off from her agency, Elaine must show her true mettle as she tracks down a master spy and tries to stop a new terrorist plot of breathtaking proportions.
Ms. Lynds adroitly melds the world of international politics with the dark world of espionage in this gripping thriller. The spy's spy himself, Charles Jay Tice, is a fascinating enigma -- and easily steals every scene he is in, as much with his tradecraft as his mercurial personality. Elaine Cunningham is a cool, collected professional who finds her preconceived notions turned upside down. The action scenes are breathtaking and the characters have substance and depth. Gayle Lynds is the heir apparent to Robert Ludlum's crown as the premier writer of international spy thrillers today.
--Claire E. White
---
The Last Cato by Matilde Asensi
Rayo, May, 2006
Hardcover: 464 pages
ISBN: 0060828579
Ordering information:
Amazon.com
|
Amazon.co.uk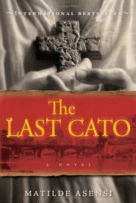 Brilliant paleographer Dr. Ottavia Salina is the head of the Vatican's Restoration and Paleography Laboratory, which is located in the Vatican's Classified Archives. She is also a nun, otherwise she couldn't work in the secret parts of the Vatican. Dr. Salina is called in to consult by Vatican officials on a puzzling case: all over Europe, sacred Catholic relics are being stolen from secure locations. In addition, an Ethiopian man was found dead, his body covered in strange tattoos and "scarifications." The man had in his possession three pieces of wood which belonged to the True Cross on which Christ was crucified. Dr. Salinas is ordered to investigate the meaning of the scarifications and is assigned two other team members: Kaspar Glauser-Roist, a laconic member of the Swiss Guard, and Farag Boswell, an attractive and brilliant Egyptian archeologist. The three set out on a global chase to find the mysterious group called the Staurofilakes which is headed up by a leader known as the Cato. Using clues contained in Dante's
Divine Comedy
as their guide, the three find themselves on a grueling and exciting quest to find and expose the Staurofilakes and to recover the pieces of the True Cross.
A bestselling author in Europe, Matilde Asensi is a new find for American readers.
The Last Cato
is an intellectual thriller which criss-crosses the globe. Dr. Salina is a fascinating character: she's a nun with a strong faith, yet her intellect pushes her to question everything around her, including church dogma and the cherished truths that she has believed about her large and powerful family. A thinking person's thriller,
The Last Cato
has excitement, intrigue, danger -- and even some romance, making it the perfect read for those who are impatient for Dan Brown's next book to make its appearance.
---
Mystery/Thriller Book Reviews
Page One
|
Page Two
---
Return to Book Reviews Index