Horror/Fantasy/SF Book Reviews
The Internet Writing Journal
The Cobra Event by Richard Preston
Random House., Nov., 1997.
352 pp. ISBN: 0679457143
Hardcover.
Ordering information:
Amazon.com.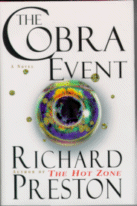 Two mysterious and sudden deaths have occured with the same violent symptoms. Alice Austen, a young doctor with the Centers for Disease Control and Prevention, is sent to investigate. The victims both died of an attack of self-cannibalism and extreme damage to the brain and central nervous system, following symptoms like that of the common cold. After more violent deaths, Austen eventually finds enough evidence to pinpoint a definite outbreak of an unknown virus which is being intentionally spread by an unknown offender. This gets national security involved, and a task force code-named "Cobra" launches into action. The race is on to to diagnose the deadly disease and discover the murderer, before the rest of the dangerous virus is released into New York City.
The Cobra Event
is a frightening, thrilling and fascinating novel. While providing a believable fictional story of the dangers of genetically engineered bioweapons, it also provides insight and realistic theories as to why the U.S. is so concerned with biological weapons facilities in Iraq and Russia and why the U.S. has fallen behind other nations in this "field". Preston's fictional work showcases what realistically may be a serious problem the human race has to face in our generation's lifetime. The horrifying and shocking depictions of the effects on humans of viral menaces will be burned into readers' minds. A must-read for anyone who enjoys medical thrillers, science fiction or save-the-world adventures.
---
Cold Iron by Melisa Michaels
Roc., August, 1997.
364 pages. ISBN: 0451456548
Paperback.
Ordering information:
Amazon.com.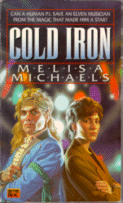 Private investigator Rose Lavine hates Christmas and is feeling decidedly cranky when a young woman walks into her office with an unusual job offer. She plunks down cold cash for Rose to protect Jorandel, the charismatic lead singer of the Elfrock band Cold Iron. There's only one problem -- Jorandel doesn't want protection, so Rose must go undercover as a groupie on the tour in order to get close to the mysterious rock star. Plunged into a mad world of sex, drugs, rock and roll and the mysterious laws of Faerie, Rose must hold on to her values and her sanity while trying to protect the life of the sociopathic yet deadly attractive Jorandel who is the living proof of the old Celtic saying that Elves are "fallen angels, not good enough to save, not bad enough to be lost...who have every charm but conscience."
Cold Iron
is a fascinating and unique mix of fantasy and mystery. Rose, who seems pretty hardboiled on the outside, has depth and character and a great deal of pain from her past. She enters the world of Cold Iron to find a killer, but finds herself in a battle to keep her sense of self and her sanity intact while resisting the lure of the hedonistic, reckless and self-destructive rock star lifestyle which is made attractive by the hypnotic power that Jorandel has over women. Along the way Rose makes some important discoveries about herself, in addition to finding out who is trying to kill Jorandel and why. The moving ending paves the way for some interesting future adventures for Rose. Michaels is an engaging writer with a musician's ear for dialogue and a gift for characterization.
Cold Iron
gives just enough information about Faerie and the Elves who have abandoned Faerie for the human world to whet the appetite for more information about this fascinating world of 20th century America that is peopled by Elves and humans alike. A fascinating new fantasy series by a delightful and talented author.
---
Sole Survivor by Dean Koontz
Ballantine, Dec., 1997.
402 pp. ISBN: 0345384377
Mass Market Paperback.
Ordering information:
Amazon.com.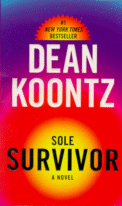 Joe Carpenter, a former reporter for the
L.A. Post
has moved himself into isolation to die. In the year since the death of his wife and daughters in a tragic plane crash in which there were no survivors, he has left his job, become an alcoholic and become lost in a state of unrecoverable grief. This quickly changes when he realizes his every move is being watched and he is visited by a woman claiming to have survived the crash that took his family's life. The opportunity to discover the cause of his family's death urges Carpenter back into life and into his old investigative reporter identity. He soon starts visiting the relatives of other victims of Flight 353, only to find that bizarre unexplained deaths by suicide have been occuring. When horrifying suicides began to happen right in front of his eyes, Carpenter realizes he is next in line to kill himself. Carpenter races to elude his pursuers, talk to witnesses and uncover the plight of Flight 353 and his beloved family before it is too late. In a race against time, Carpenter is led into unimaginable situations and closer to believing in a God he never believed in.
Sole Survivor
is an engaging novel, full of suspense and moments of horror. Dean Koontz is able to entertain the reader and maintain the suspense in this complex story up until the fulfilling conclusion. The story includes elements of paranormal activity, psychology, genetic engineering and a "Big Brother" type conspiracy theory. An exciting tale that takes you deeper with every page.
---
Return to Book Reviews Index