Hangman's Point by Dean Barrett Review
Village East Books, October 1998.
Hardcover, 538 pages.
ISBN: 0966189914.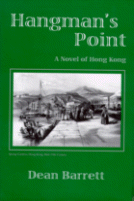 In 1857, Hong Kong is a wild port town where the English rulers and the Chinese subjects uneasily co-exist, and mainland China foments insurrection by the populace against the hated British. The opium trade is thriving and violence is the norm. American Andrew Adams fits into Hong Kong easily; he is a saloon owner, part-time smuggler and notorious ladies' man, who is fluent in numerous languages and is known to be good man to have by your side in a brawl. To escape hanging for a practical joke (which had some rather explosive consequences) against the British, Adams agrees to go to Southern China to search for the pirates who beheaded eleven foreigners. Facing betrayal on all sides, Adams sets out to find the pirates and clear his name. On his journey he will face bloodthirsty pirates, alluring women, despicable slave traders, and a horrifying plot to capture Hong Kong.
An expert on Hong Kong and the turbulent time period portrayed, Dean Barrett has fashioned a swashbuckling adventure which will have both history buffs and thriller readers enthralled from the very first page. The vivid details of the period, which range from women's fashions to military matters to the intricacies of the Chinese culture, are endlessly fascinating and the action never lets up for a minute. Adams is a lovable rascal who accepts defeat with a smile and a shrug which serve as a disguise for an amazingly determined and courageous man. An outstanding historical novel.
Ordering information: Amazon.com.
---
More from Writers Write
---