Fantasy/SF Book Reviews
Page Two of Two
Vittorio the Vampire by Anne Rice
Knopf, March 1999.
Hardcover, 292 pages.
ISBN: 0375401601.
Ordering information:
Amazon.com.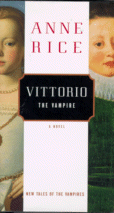 In 15th century Italy, in the Florence ruled by Cosimo de Medici, a young aristocrat, Vittorio, lives a rich and pampered lifestyle with his family. An intellectual, he enjoys studying as much as his athletic pursuits. But when a horrible tragedy strikes his family, he is forced to flee. Vittorio has met Ursula, a gorgeous vampire who he cannot resist. Eventually he is led to the horrifying Court of the Ruby Grail where a group of vampires live and keep prisoners in shocking conditions. Vittorio will face terrible conflicts and challenges as a result of his love for a member of the undead. As he journeys to find himself, he will meet both demonic forces and even angels as he struggles to make sense of his life -- and the love he feels for the mysterious Ursula.
This is the second in the New Tales of the Vampires by the incomparable Anne Rice, which began with
Pandora
. Renaissance Italy provides an incredibly gorgeous backdrop for this story, which is truly one of Rice's best to date. The love story of Ursula and Vittorio brings to mind the story of Romeo and Juliet, is full of feeling and contains some of her most erotic images she's written. Vittorio himself is an absolutely fascinating person -- even more so than the sometimes sociopathic and ultimately damaged Armand. Torn by his love for Ursula, his feelings of justice and his longing for his soul to be with God, Vittorio seems incredibly real. A moving and fascinating work, this is Rice at her most compelling. Highly recommended.
---
Warstalker's Track by Tom Deitz
Eos, April, 1999.
Paperback, 375 pages.
ISBN: 0380786508.
Ordering information:
Amazon.com.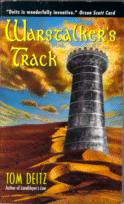 The High King of Faerie, Tir-Nan-Og, has been deposed and imprisoned in a cage of iron by his enemies. Other Faerie lords have decided to destroy the state of Georgia in the human world where land developers are encroaching on Faerie itself through their use of iron -- which is deadly to Faerie and to elves. It is up to David Sullivan and his group of human and Elven friends to free the High King and stop the destruction.
This is purportedly the last in the series of David Sullivan stories. Deitz explains what has gone before, so newcomers to the series shouldn't be confused about prior happenings. With plenty of action, adventure and Deitz's knack for creating magical worlds,
Warstalker's Track
provides rousing good reading.
---
Click Here For Fantasy/SF Book Reviews Page One
Return to Book Reviews Index
---
More from Writers Write