Fantasy/SF Book Reviews
Circuit of Heaven by Dennis Danvers
Eos, Jan., 1999.
Paperback, 378 pages.
ISBN: 0380790920.
Ordering information:
Amazon.com.
In the year 2081, most of humanity has forsaken this earthly prison to upload their consciousness into "the Bin," a crime-free, disease-free perfect virtual society. Nemo, whose parents left him to upload themselves into the Bin, only visits the virtual society to see mom and dad -- he hates the Bin. But all that changes when he meets a lovely girl, Justine, on one of his visits to the Bin. The couple falls in love, but must overcome a number of obstacles: Justine has no physical body to go back to, the real world is peopled with religious fanatics and wackos, and someone is trying to destroy the Bin, using Nemo as an unwitting pawn.
Circuit of Heaven
is a love story wrapped in a thought-provoking SF tale. The Bin is an interesting construct, a supposedly "perfect" environment, which leaves some people feeling strangely dissatisfied. But is that attributable to the nature of humankind or to a software programming error? The reader will have to answer that question on his or her own. The prose is easy to read, and you'll be finished before you really want the story to end. Highly Recommended.
---
The Last Continent by Terry Pratchett
HarperPrism, March 1999.
Hardcover, 292 pages.
ISBN: 0061050482.
Ordering information:
Amazon.com.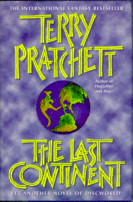 In his 22nd Discworld novel, Pratchett takes on the strange continent of Fourecks, which looks and sounds a lot like Australia. The bumbling wizard Rincewind's appearance on the continent has done something peculiar to the space time continuum and the continent is in danger of being destroyed from lack of water, unless a terrible wrong (which happened 30,000 years ago) is put right. Meanwhile, the faculty of the Unseen University is in the distant past (due to a bit of carelessness), trying to find a way home in time for supper. The story gets considerably more complicated after this.
Sound confusing? It is, but it really doesn't matter. As always, Pratchett spins a strange and adventuresome tale with his wild and witty sense of humor sustaining the story. Best gag: the adventures of the wizard professors as they are stranded in the past, quarreling all the while about tenure and who has the best office. Highly Recommended.
---
Return to Book Reviews Index
---
More from Writers Write