Fantasy/SF Book Reviews
Haunted by Kelley Armstrong
Bantam Spectra, June, 2005
Paperback, 528 pages
ISBN: 0553587080
Ordering information:
Amazon.com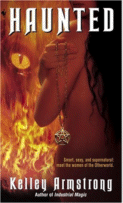 Eve Levine had many enemies in life. Half Aspico demon and half human, she was a witch who dabbled with the dark side and died young, leaving behind a daughter Savannah. Now that Eve is a ghost, she has quite a few regrets about her life, although death certainly hasn't made her soft. Still, motherhood keeps Eve's spirit close to Earth as she watches over her baby. The love of her life (and father of Savannah), Kris, is also in the Afterlife. Kris isn't such a bad guy, for a Cabal sorcerer. And when the Fates assign Eve a job as a bounty hunter to go after a rogue spirit, Kris is there to help. Eve sets out with the help of an Angel to find the evil Nix, a spirit which inhabits humans and makes them commit unspeakable crimes. But can a bad witch go good, even with the help of an Angel?
Kelley Armstrong's Women of the Otherworld Series has explored the world of a female werewolf (
Bitten
and
Stolen
) and of white witch Paige Winterbourne (
Dime Store Magic
and
Industrial Magic
). Now, Ms. Armstrong takes us into the Afterlife with fallen white witch and current ghost Eve Levine, who was briefly introduced in Paige's books (Paige is the guardian of Eve's daughter Savannah). In those books everyone speaks of Eve in hushed voices, and it's easy to see why now. Eve is a powerhouse personality and her story is absolutely riveting. She's single-minded, brilliant, talented, and as tough as they come, but will give up all she has to protect her daughter. Kelley Armstrong's wicked sense of humor combined with her skill at unusual characterizations and a fast-paced and delightfully creepy plot make for an incredibly entertaining read. No wonder the author saved Eve's story for the end; she simply must have more adventures.
--Claire E. White
---
The Good, the Bad and the Undead by Kim Harrison
HarperTorch, February, 2005
Paperback, 453 pages
ISBN: 0060572973
Ordering information:
Amazon.com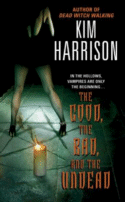 Bounty hunter Rachel Morgan is back in this second book after last year's
Dead Witch Walking
, which won the PEARL award for Best Science Fiction Novel of 2004 and Best New Author. In Kim Harrison's alternate reality, our world has gone through a big change called The Turn, in which a terrible virus was released through bioengineered tomatoes which nearly destroyed humanity. Those that were immune to the virus and who stepped forward to keep society running had formerly been underground: witches, vampire, werewolves and the like. Now they're a part of a rather paranoid human society that, understandably, is terrified of tomatoes. Rachel is a former I.S. runner (a paranormal FBI) and she lives in the Hallows, a part of Cincinnati where the paranormals hang out. Now a freelance investigator, Rachel is learning more about her powers and where she fits into the world. Rachel accepts a job investigating a series of murders of ley line witches and promptly runs into her old nemesis, Trent Kalamack, the wealthy handsome businessman who Rachel believes is the area's supplier of the deadly addictive drug Brimstone. With the help of her vampire roommate Ivy, her irrepressible pixie partner Jenks, and her human boyfriend Nick, Rachel sets out to find a killer.
Rachel is a tough-talking, yet warm-hearted heroine whose impulsiveness gets her into quite a bit of trouble. Kim Harrison has created a surprising and intriguing world which is filled with magic, danger, raw emotion and sly humor. The macho pixie Jenks is hilarious and the mysterious Trent Kalamack is fascinating, which helps offset the increasingly creepy Ivy who takes the phrase "roommate from Hell" to a whole other level.
---
The Greenstone Grail by Amanda Hemingway
Del Rey, March, 2005
Hardcover, 360 pages
ISBN: 0345460782
Ordering information:
Amazon.com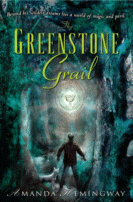 British author Amanda Hemingway (who wrote the outstanding
Prospero's Children
trilogy under the name Jan Siegel) takes on the Arthurian legend in this excellent start to a new series. Annie Ward, a young mother stumbles through the night to the doorstep of the mysterious Bartlemy Goodman, who gives her and her young son Nathan shelter from shadowy pursuers. Annie and Nathan settle in the village of Thornyhill, where Nathan has arranged for Annie to run the local bookshop. When Nathan is 11, he goes out exploring in the local forest and discovers a dark cave where he sees a vision of a bejeweled emerald green cup filled with blood. Afterwards, strange things begin to happen in the village, and Nathan finds he has the power to visit another world when he is sleeping. This other world is dying from pollution and poison and needs the cup (or Grail) to survive. When the cup appears at Sotheby's for sale, the last remaining Thorn descendant demands its return (it was stolen by the Nazis years ago and an heir of the thief has put it up for sale). Now, everyone is after the cup, and if it isn't placed in the right hands, there could be dire consequences for both worlds. Bartlemy, who is one of the Gifted, knows that it will be Nathan's destiny to find the Grail and restore it to its proper place.
Amanda Hemingway has a deft touch with characterization and a fertile imagination, which are both on display in this lively and entertaining tale. Ms. Hemingway has a way of taking the very normal (such as a small English village) and infusing it with extraordinary atmosphere and suspense. Nathan, the boy of mysterious supernatural origins, is an appealing hero and-in an unusual twist for a story of this type -- he has a likeable, sensible young mother.
--Claire E. White
---
Return to Book Reviews Index
---
More from Writers Write
---