Fantasy/SF Book Reviews
Page Two of Two
Holy Fire by Bruce Sterling
Bantam Spectra, Nov., 1997.
Paperback, 358 pages.
ISBN: 055357549X.
Ordering information:
Amazon.com.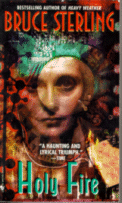 94-year-old Mia Zimmerman is a model citizen in the late 21st century and therefore is entitled to all the benefits accorded to the rich and elderly in that society, including the right to undergo the latest procedures in life-enhancement technology. The procedure goes well -- she looks and feels fabulous. There's only one problem: her brain has also been rejuvenated and mind now realizes the awful truth. Her lengthy, conservative, model-citizen's life has been empty, devoid of passion or artistry. Appalled at the idea of living the next 94 years under the strict scrutiny of the medical community which rejuvenated her, Mia promptly escapes her keepers and heads off to Europe, joining a youthful group of artistic anarchists, living as a hippie and seeing life, all the while keeping her true identity a secret as she searches for meaning in her life. Her journey takes her from the dregs of the underworld to the pinnacle of chic, café society and introduces her to a lifestyle she never dreamed existed in her prior lifetime which includes bizarre forays into virtual reality. As her past catches up to her, Mia is forced to make the most difficult decisions of both her lives: to conform and regain her life of ease and guaranteed medical treatments or to remain a bohemian outcast -- free but cut off from mainstream society.
Holy Fire
is a dazzling display of societal satire of a future society that sounds eerily possible. With a chilling and yet realistic portrayal of a world where a rich gerontocracy rules a world where your behavior counts against you -- every time you drink alcohol or skip your vitamins it's recorded on your health records -- the temptation to conform to society's standards is intense. For those who don't comply and abuse their bodies with alcohol or nicotine or don't practice proper hygiene, society's response is simple: they don't get access to modern health care and usually die before 40. Mia is a compelling, vulnerable and ultimately endearing heroine who learns to trip the light fantastic with Europe's young artistes who are all in search of the "Holy Fire": the new sense of perception which will take the human race towards the next step in its evolution. A provocative look at our society's future,
Holy Fire
is an enthralling and vastly entertaining novel.
---
The Stranger by Eric James Fullilove
Bantam Spectra, Nov., 1997.
Paperback, 249 pages.
ISBN: 0553575767.
Ordering information:
Amazon.com.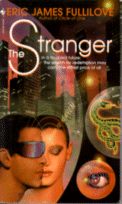 In
The Stranger
, Eric Fullilove continues the intriguing saga of telepath Jenny Sixa who, with her unusual ability to look inside the minds of humans whether alive or dead, is a great asset in a police investigation. For Jenny, however, the work is exhausting and upsetting because of the violent images she gleans from the victims' minds about their deaths. After gaining great wealth from her last case, Jenny has retired to the life of a wealthy socialite rubbing shoulders with the elite and famous. When a teenage boy is found murdered, Jenny's old friend from the L.A.P.D. convinces her to come out of retirement to track the killer. But despite her impressive abilities, Jenny can sense nothing from the young man's mind at all. Even more disturbing are the thoughts of a predator who preys on women and who projects his thoughts of violence into Jenny's mind before each attack. As Jenny struggles to determine if there is a link between the dead boys and the Stranger in her mind she will discover a bizarre plot including a strange religious cult which could have cataclysmic repercussions for the entire human race.
The latest outing of Jenny Sixa is a fast-paced, action-packed adventure set in the mean streets of future L.A. South Central has been walled off and those with money and power rule the day. Jenny is an appealing and cynical character whose thoughts are intriguing for readers to share. With sharp characterizations and an exciting plot,
The Stranger
is a quick, entertaining read.
---
The Wiz Biz by Rick Cook
Baen Books, Oct., 1997.
Paperback, 615 pages.
ISBN: 0671878468.
Ordering information:
Amazon.com.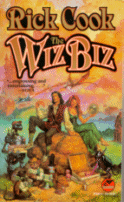 William Irving Zumwalt, better known as Wiz to his friends, is a crack programmer from Silicon Valley. One evening, while debugging some recalcitrant code, he's snatched out of this world entirely and landed in a forest at the feet of the most beautiful girl he's ever seen. When she informs him that she is a hedge witch and that he has been summoned by one of that world's greatest Wizards to assist in defeating the Dark League, Wiz is sure it's a dream. But it's not and the next thing he knows he's on the run from the Dark League in a world in which magic is as commonplace as breathing. What Wiz ultimately finds is that the magic in that world is subject to programming protocols, so he sets out to write a programming language which will enable him to compete with the magic of the Dark League without being a real wizard at all. Can a nerdy computer geek be transformed into one of the Mighty and win the love of the beautiful hedge witch Moira? Wiz Zumwalt is certainly willing to try!
The Wiz Biz
is the first unitary edition of Rick Cook's popular books entitled
Wizard's Bane
and
The Wizardry Compiled
.
The Wiz Biz
is a lighthearted read featuring magic, adventures, romance, humor and dragons, with lots of programming lingo thrown in for the technically-minded. A fast, enjoyable read for lovers of traditional fantasy, humor and computer programming.
---
Click Here for Fantasy/SF Book Reviews Page One
Return to Book Reviews Index