Fantasy/SF Book Reviews
Page One of Two
The Sword and the Miracle by Melvyn Bragg
Random House, Nov., 1997.
Hardcover, 536 pages.
ISBN: 0375500030.
Ordering information:
Amazon.com.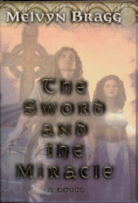 This engaging epic saga begins in Ireland with Donal, a devout monk, receiving a blessing from the Virgin Mary. Donal is given a piece of the Holy Cross to bequeath to a young girl named Bega. He is to look after the girl and give her the gift when the time is right. Bega grows to be a well-schooled and feisty young maiden, mostly because of her tutor, Padric, a Rheged Prince, with whom she is falling in love. However, her fierce warrior father King Cathal promises her hand to Niall O'Neill, a brutal barbarian Prince whom she despises. Bega is afraid to discourage her father and O'Neill soon arrives expecting a marriage ceremony. However, the marriage ceremony falls apart due to a series of horrors. O'Neill, who has arrived to wed Bega, rapes a servant woman after the first evening of festivities which include plenty of food and wine. To Bega's dismay, O'Neill is not punished by his father, but at the wedding ceremony O'Neill is stabbed to death by the servant woman and the servant woman is beheaded. King Cathal is considered responsible and must leave to apologize to the O'Neill family. Donal, feeling that the time is right, gives Bega the gift of the true cross. Bega then sets sail for Britain with Padric, who yearns to free his father's kingdom from the Northumbrians.
This is just the beginning of this saga, as Bega pursuits a life of dedication to God as a nun and Padric returns to his father to convince him to turn against the ruling Northumbrians and quit paying the tribute. Padric is also highly suspicious of the Northumbrian King's son, Eldrich, who he fears has plans to overthrow his father's kingdom and rule all lands. Padric also continues to pursue Bega, although he is continually thwarted in his dreams of love by her dedication to faith. Even so, their love for each other never falters as Padric begins his journey to form an army to return his father's Kingdom to Rheged and Bega pursues her life of independence, virtue and dedication to God.
Using historical names and figures, Melvyn Bragg has authored a mesmerizing tale that intertwines the lives of two loving characters, Bega and Padric, with the complex ethical and religious passion and zeal of the age in which they live. Bragg has penned an intelligent epic fantasy tale with magic, love, religion and war that also gives insight into the values and lives of life in early Britain and Ireland.
---
The Face of Apollo by Fred Saberhagen
Tor Books, April, 1998.
Trade Paperback, 384 pages.
ISBN: 0312864086.
Ordering information:
Amazon.com.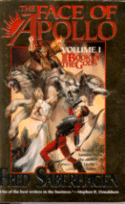 Jeremy is tired of doing farm work for his Uncle and tired of the ordinary town in which he lives. His life in the doldrums quickly changes when he discovers an injured woman hidden back in the woods. She is secretly carrying an icon of the God Apollo, who was nearly destroyed in a great battle with Hades, the Lord of the Underworld. When the village is attacked by furies, the woman is killed and Jeremy is forced to flee the village with the icon, which is a portion of the Face of Apollo -- his left eye. Jeremy, after receiving a few stinging lashes from the tail of a nasty fury, manages to escape on a small boat down the river. When Jeremy feels he is far enough away he stops to rest and examines the portion of Apollo's face which seems oddly life-like. Unknowingly, Jeremy puts the icon to his eye, upon which the face slips inside of him. With the God Apollo inside him, Jeremy begins to experience godlike senses and memories. Using his strange new partnership with Apollo, Jeremy sets off on an adventure to revenge Apollo's defeat and destroy Hades -- all the while wondering what will happen to his own body when the God Apollo is through with it.
This is the first in the Book of the Gods series by renowned horror, fantasy and science fiction author Fred Saberhagen. Readers will enjoy this exciting introducing which highlights interaction between Gods and Humans. A research university known as the Academy, featured in the book, where humans study and research the Gods allows Saberhagen to share his knowledge of mythology in an insightful and amusing way. A wonderful beginning to an appealing fantasy series.
---
Click Here for Fantasy/SF Book Reviews Page Two
Return to Book Reviews Index