Fantasy/SF Book Reviews
Page Three of Four
Sips of Blood by Mary Ann Mitchell
Leisure Books, July 1999.
Paperback, 368 pages.
ISBN: 0843945559.
Ordering information:
Amazon.com.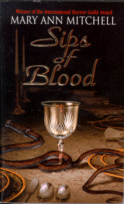 The infamous Marquis de Sade is alive and well in modern-day America. Well, perhaps alive is not quite the right word since the Marquis is a vampire. He and his mother-in-law, Marie Masson, continue their existence in modern times, having adapted quite well to the modern world. Both are devotees of sado-masochism, and are always on the lookout for new converts. Marie plies her trade from a remote home, where wealthy industrialists with a kinky bent spend time in her dungeon for a very high price. Known as the Maitresse, she feeds on her clients while satisfying their own twisted fantasies. Meanwhile, the Marquis indulges his predilection for very young girls. But when the Marquis falls for a young relative and the Maitresse falls for her neighbor's son, things begin to get complicated. Full of S & M, bondage, torture and some really nasty vampires, this one will be a delight for horror fans who like it sexy and gruesome at the same time -- everyone else should steer clear.
---
The Star Trek Encyclopedia by Carol Heller
Pocket Books, Oct., 1999.
Trade paperback, 745 pages.
ISBN: 0671536095.
Ordering information:
Amazon.com.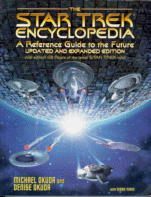 The
Star Trek Encyclopedia
is a collection of information and facts about the
Star Trek
Universe based on the movies and hit TV series, including
Star Trek, Deep Space 9
and
Star Trek: The Next Generation
and
Star Trek: Voyager
. The book includes an A-Z listing of every planet, world, character, space vehicle, species and the technology found in
Star Trek
along with descriptions, color photographs, drawings, charts and other statistics. Boldfaced words indicate terms which have listings elsewhere in the encyclopedia, which allows for quick cross-referencing. The appendix includes additional features including a picturesque guide to federation starships and non-federation ships, a timeline of historical events in the
Star Trek
Universe, writer/director credits, a cast list and a list of production personnel and contractors who have received on-screen credit for work in
Star Trek
episodes or feature films. The
Star Trek Encyclopedia
is a comprehensive reference for lovers of
Star Trek
television and movies beginning with Gene Roddenberry's first show to hit the airwaves in 1966 to the current
Star Trek: Voyager
series. An awesome work that will be a must-own for all trekkies.
---
Fantasy/SF Reviews
Page One | Page Two | Page Three | Page Four

Return to Book Reviews Index




---
More from Writers Write
---