Fantasy/SF Book Reviews
Page One of Four
999 by Stephen King, Neil Gaiman, Joyce Carol Oates et al., Edited by Al Sarrantonio
Avon Books, Sept., 1999.
Hardcover, 664 pages.
ISBN: 0380977400.
Ordering information:
Amazon.com.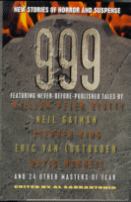 With the approach of the new Millennium, Editor Al Sarrantonio wanted to create a horror anthology worthy of the beginning of the next century, and he has succeeded admirably. The gargantuan anthology contains original stories by today's top horror authors. Stephen King contributes a creepy tale about a horror author who picks up a painting he would have been better off without in "The Road Virus Heads North." The novelist's musings on literary conferences and fans are quite amusing. Of course the inevitable consequences of the purchase are not amusing at all, at least to the novelist. In "Keepsakes and Treasures: A Love Story" Neil Gaiman contributes a delightfully nasty story about how the richest man in the world finds love; the narrator's voice will absolutely chill you. Chet Williamson has a little fun with a fantasy gathering of today's greediest billionaires in "Excerpts From the Records of the New Zodiac and the Diaries of Henry Watson Fairfax," and Joyce Carol Oates donates a fascinating tale with her "The Ruins of Contracoeur." The mix of superstar authors and the hot new writers is well-done. There's enough suspense, gore, and mind-blowing horror here to keep any fan scared to death for many a night. Highly Recommended.
---
Angel Fire East by Terry Brooks
Del Ray, Oct., 1999.
Hardcover, 336 pages.
ISBN: 0345379640.
Ordering information:
Amazon.com.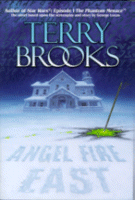 Knight of the Word John Ross returns in this third installment of the fantasy trilogy, following
Running With the Demon
and
A Knight of the Word
. Exhausted by his long fight with the evil Void, John Ross must face one final challenge. He must find a gypsy morph, a being created spontaneously from wild magics which has the potential to be either a force of great good or great evil. Of course the Void wants to get its hands on the gypsy morph, as well, and sends its oldest and most powerful demon to take it from Ross. Ross captures the morph which, true to its name, changes shape every few minutes, eventually settling into the form of a little boy. Ross and the boy make their way to visit Nest Freemark, a champion runner and sometime ally of Ross in the fight against evil. Together, John Ross and Nest will make their stand against the demon Findo Gask and his nasty cohorts.
A new Terry Brooks novel is always great news for fantasy readers.
Angel Fire East
takes the familiar characters from the first two books in the trilogy and brings them together in the small town of Hopewell, Illinois for a final showdown with the Void on Christmas Eve. Some excellently conceived villains, interesting subplots and a surprisingly inventive ending make this a must-read for Brooks fans.
---
Fantasy/SF Reviews
Page One | Page Two | Page Three | Page Four

Return to Book Reviews Index




---
More from Writers Write
---