Mystery/Thriller Book Reviews
The Internet Writing Journal
,
December 2005
The Girl With the Long Green Heart by Lawrence Block
Hard Case Crime, November, 2005
Paperback, 251 pages
ISBN: 0843955856
Ordering information:
Amazon.com
|
Amazon.co.uk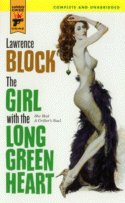 Dorchester's Hard Case Crime line continues to shine: this new imprint features old school mysteries with fantastic old-style pulp crime fiction covers. Bestselling novelist Lawrence Block has written everything from lighthearted mysteries to hard-edged contemporary novels.
The Girl With the Long Green Heart
was written in 1965 and it is a perfect example of a noir/crime story about a long con. John Hayden and John Rance are a couple of grifters who set up a scheme to relieve obnoxious millionaire Wallace J. Gunderman of some of his millions, with the help of his gorgeous secretary Evvie Stone (the auburn-haired temptress on the alluring new pulp cover by Robert McGinnis).
The con involves a Canadian land scam, and the plan seems simple enough. Which, of course, means that things won't turn out to be so simple -- after all, this is future Grandmaster Larry Block writing. What's most amazing about the story is how well it reads today. Set in the 60s, the characters smoke and drink martinis at lunch, but the psychology and the basic plot are timeless. The story is absorbing, funny and the atmosphere is first-rate. Noir and crime novel fans will be in heaven.
--Claire E. White
---
Kensington, December, 2005
Trade Paperback, 277 pages
ISBN: 0758208804
Ordering information:
Amazon.com
|
Amazon.co.uk
Mystery author Maggie Kelly has an unusual problem: two of her fictional characters have come to life and appear to have taken up permanent residence in her life (
See
,
Maggie Needs an Alibi
). The Viscount Saint Just solves murders in Maggie's bestselling historical mystery series, assisted by his butler and sidekick, Sterling Balder. Now Saint Just lives in Manhattan and is making quite a nice living as a male model going by the name Alex Blakely. Maggie, Saint Just and Sterling head to England where one of Maggie's Saint Just mysteries is being made into a feature film. The film is being shot on location at a country estate that is currently being flooded by a seemingly endless thunderstorm. Power outages, egotistical actors and an obnoxious producer are the least of Maggie's problems: dead bodies are starting to appear. It's up to Saint Just and Maggie to find a murderer and rescue the film.
High Heels and Homicide
is a perfectly delightful story that works equally well as chick lit, a cozy mystery or a lighthearted urban fantasy. The dialogue sparkles as does the romantic tension between Maggie and her perfect hero (after all, she did create him to be irresistible to women). Ms. Michaels needles her readers by hinting that Saint Just will cease to exist if Maggie stops writing about him. Surely she couldn't be so cruel as to kill off the Perfect Hero? Devoted fans of this imaginative and very funny series would be sure to stage a revolt.
--Claire E. White
---
Return to Book Reviews Index