Computer Book Reviews
Page Two of Two
Teach Yourself SQL in 24 Hours by Ryan K. Stephens and Ronald R. Plew
Sams, May 1998.
Trade Paperback, 398 pages.
ISBN: 067231245X
Ordering information:
Amazon.com.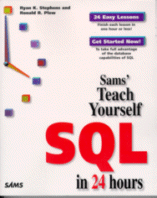 SQL is a language used for querying relational databases including those used with Oracle, Microsoft SQL Server and Microsoft Access. This instructional book provides an introduction to the query language and provides lessons that teach you how to use it. SQL topics covered in the book include data structures, database objects, normalization, manipulating data, database transactions, queries, operations, sorting, character functions, dates, tables, subqueries, multiple queries, indexes, security and advanced SQL solutions. The sections in the book are divided into 24 one-hour lessons that contain instruction and example coding and syntax. The hour lessons also include helpful question & answer and quizzes and exercises to test what you have learned. The answers to the quizzes can be found in the back of the book.
This book contains easy-to-follow instruction from authors Ryan Stephens and Ronald R. Plew, both Oracle Database Administrators and professors that teach SQL in college courses. A recommended book for those learning SQL on their own or for use as an extra reference book to follow along with a college course or on the job training.
---
Using the Internet 4th Ed. by Barbara Kassar
Que, May 1998.
Trade Paperback, 523 pages.
ISBN: 0789715848
Ordering information:
Amazon.com.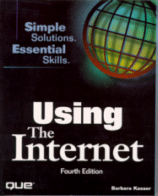 Using the Internet
introduces the Internet to the reader and provides instruction on different ways to use the Internet and how to get the most value from it. The book is most useful for beginners and contains information on subjects such as: getting online, using browsers, searching for information, downloading files and software, email, newsgroups, finding news online, buying products online, chatting, internet conferences and setting up a website. The book also contains a glossary, a list of employer websites for the job hunter and a shopper's guide for those interested in online shopping. The instruction in the book is enchanced with numbered outlines, screenshots, examples, shortcuts, and pitfalls to avoid that aid the reader in understanding the concept.
A very useful reference for the novice looking for instruction on where to start and how to get going. In addition to instruction on using browsers, email and surfing, the book also provides contains helpful advice on finding information online.
---
Click Here For Computer/Web Design Book Reviews Page One
Return to Book Reviews Index
---
More from Writers Write