Computer Book Reviews
Page One of Two
Net Results: Web Marketing That Works by USWeb and Rick E. Bruner
Hayden Books, May 1998.
Trade Paperback, 392 pages.
ISBN: 1568304145
Ordering information:
Amazon.com.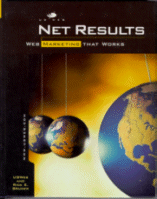 This internet guide provides information on how to market and promote a product or service online. The book provides information on concepts developed by USWeb, an online development firm, and is authored by Rick E. Brunner, a writer for
Advertising Age
Magazine. The book provides in-depth information on online marketing including web marketing fundamentals, design optimization, domain name branding, placement in search engines and directories, online communities, demographics, contests and creative promotions, public relations online, web advertising and internet resources. The sections include examples, case studies, and inside scoop on the subject at hand. Each section also contains a resource section with links and descriptions of relavent websites. For example, the section on web advertising tells you how online advertising can be effective, what methods are available for advertising and provides examples and case studies of effective web advertising campaigns. This section also shows examples of effective banner advertisements and the criteria of a banner ad that gets results.
Net Results
is a valuable reference for anyone involved in the marketing of a website, an online event or trying to sell a product or service over the Internet. A thorough introduction to the complex world of web marketing.
---
Teach Yourself Excel 97 by Jennifer Fulton
Sams, March 1998.
Trade Paperback, 208 pages.
ISBN: 067231326X
Ordering information:
Amazon.com.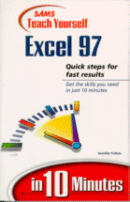 This reference book teaches the reader to learn how to use Excel 97 effectively through explanations and tips. The book also informs the reader about shortcuts available and mistakes to avoid when using Excel. Topics covered in the book include toolbars, data types, editing, files, working with worksheets, printing, calculations, formulas, copying, formatting, charts, databases, graphics and adding internet links. Solutions to situations you might encounter when using Excel are addressed with numbered step by step outlines with explanatory text and numerous examples, graphs and screenshots to aid the reader.
Teach Yourself Excel 97
is handy tool for frequent Excel users or beginners who are interested in familiarizing themselves with the Microsoft spreadsheet software.
---
Click Here For Computer/Web Design Book Reviews Page Two
Return to Book Reviews Index
---
More from Writers Write
---