Computer Book Reviews
The Complete Idiot's Guide to e-Commerce by Rob Smith, Mark Speaker and Mark Thompson
Alpha Books, January 2000.
Trade Paperback, 364 pages.
ISBN: 0789721945
Ordering information:
Amazon.com.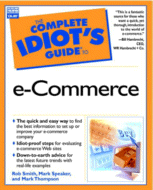 The Complete Idiot's Guide to E-commerce
provides an introduction to e-commerce including information about how to get an Internet business started. This guide to e-commerce covers multiple subjects involved in web businesses, including evaluating e-commerce sites, virtual corporations, developing an e-business, killer apps, laws of e-commerce, real-time systems, automating your supply chain, customers, credit card processing, hiring employees, telecommuting, data mining, internet marketing and knowledge. For each topic covered, the book provides a general overview and advice as well as links to additional resources on the Web. The reference includes examples of successful websites, tips for building a high-traffic website, things to avoid and information about subjects unique to e-commerce, such as internet advertising, automated order processing, domain names, bandwidth and online databases.
The Complete Idiot's Guide to e-Commerce
is a straightforward resource for novices looking to understand the rapidly expanding world of e-commerce and for store owners and businesses looking for a jump start to creating an online counterpart for their businesses.
---
Ethernet: The Definitve Guide by Charles E. Spurgeon
O'Reilly, March 2000.
Trade Paperback, 498 pages.
ISBN: 1565926609
Ordering information:
Amazon.com.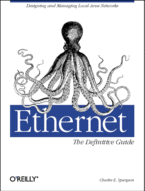 Ethernet is the most widely used technology for networking. This guide provides information about Ethernet media systems including introductory concepts, building Ethernet systems, performance analysis and troubleshooting. In addition to basic Ethernet protocols, the book also covers recent developments including Fast Ethernet (100 Mbps) and Gigabit Ethernet (1000 Mbps). Specific sections in the book provide coverage of the history of Ethernet, half-duplex Ethernet channels, full-duplex mode, auto-negotiation, twisted-pair media systems, fiber optic media systems, Fast Ethernet, Gigabit Ethernet, multi-segment configuration guidelines, structured cabling, twisted-pair cables, fiber optic cables, Ethernet repeater hubs and Ethernet switching hubs. The book also includes an appendix with information about additional resources, a description of the thick and thin coaxial media systems, a guide to AUI equipment installation and a glossary of terms.
Charles Spurgeon, an expert in networking who has worked on large campus networks for 20 years, provides a thorough guide to understanding and installing Ethernet networks. Spurgeon also excels at providing the precise terminology and specifics in layman's terms for the hardware and concepts involved in networking.
Ethernet: The Definitive Guide
is an invaluable reference tool for anyone installing an Ethernet system or looking to expand an existing Ethernet system.
---
Programming the Perl DBI by Alligator Descartes and Tim Bunce.
O'Reilly, February 2000.
Trade Paperback, 346 pages.
ISBN: 1565926994
Ordering information:
Amazon.com.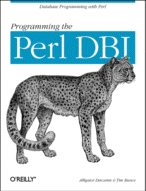 PerlDBI is a database programming interface in Perl, which allows programmers to interface with a number of database products. With PerlDBI, programmers can reuse code for a new database or use multiple databases simultaneously. This reference acts as an introduction to PerlDBI and also provides comprehensive programming instruction and reference sections. Topics covered in the book include: non-DBI databases, flat-file databases, SQL, relational databases, debugging, querying data, working with tables, programming, interacting with the database, advanced DBI and ODBC databases. The book includes plenty of sample code and documentation to guide readers through each section of the book. Reference sections in the book include DBI specification and driver and database characteristics.
Programming the PerlDBI
is a comprehensive reference that helps programmers understand DBI and learn how to manage, query and interact with databases using PerlDBI. This is a practical reference for both beginners and experience programmers; readers should have a basic knowledge of the Perl language in order to get the most out of this helpful book.
---
Return to Book Reviews Index
---
More from Writers Write