Computer Book Reviews
Page Two of Two
Intranet & Web Databases for Dummies by Paul Litwin
IDG Books, Nov., 1997.
Trade Paperback, 355 pages.
ISBN: 0764502212
Ordering information:
Amazon.com.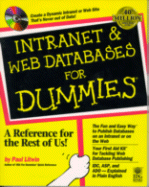 This book provides the reader with knowledge of database software and programs available for the user that require little more than a knowledge of HTML and the appropriate hardware and/or software to use it. Database tools covered in the book include Microsoft Access, SQL Server, Visual InterDev and Active Server. The book explains how to use each publishing tool to set up and query an online database. The included CD-ROM provides sample databases and source code from the book.
This book focuses primarily on Microsoft-based solutions and those with Windows 95 or Windows NT and Microsoft Access will derive the most benefit from the book. For web developers with the available software, this book is a great learning aide for some of the quick tools available to creating instant HTML pages using a database.
---
Poor Richard's Website by Peter Kent
Top Floor, Jan., 1998.
Trade Paperback, 448 pages.
ISBN: 0966103289
Ordering information:
Amazon.com.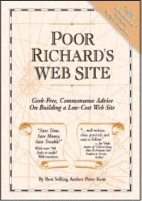 The Internet today seems incomprehensibly huge and complex. How can you possibly figure out where to start or which service to choose when deciding to invest in and build your own website? Never fear, web novice. Peter Kent has done all the research for you and provides in detailed, laymen's terms, exactly what you need to do and what to expect in his how-to book,
Poor Richard's Website
.
Poor Richard
takes you by the hand and guides you through the maze of learning how to create your own website. The book first explains what websites are good for and then dives into coverage of all issues ranging from how to get started to how to advertise your website. Issues explained include finding a web host, domain names, HTML, creating an effective website, adding interactivity, taking online orders, promoting your site, electronic press releases, tracking site usage and more.
Peter Kent wants us to remember that although "the Internet is a giant jobs program for computer geeks," this does not mean it is not an important business tool or one that cannot be used by the average person. In
Poor Richard's Website
, Kent achieves his goals by presenting an easy to read book that will give readers a solid grasp of how and where to start building their own websites and, just as importantly, an idea of why they need one in the first place.
---
Web Channel Development for Dummies by Damon Dean
Que, Sept., 1997.
Trade Paperback, 433 pages.
ISBN: 076450309X
Ordering information:
Amazon.com.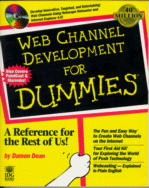 Push Technology has taken a variety of different formats since the development of the Internet, but a few services have stood out and developed a significant following. The information found in the pages of
Web Channel Development
makes it easier on webmasters looking to reach users of these services. The book provides webcasting know-how with coverage of Internet Explorer Active Channels, Netcaster channels, PointCast and Marimba. The book explains how to get set up with each webcasting tool and what you can do with each one. The book also includes advice on how to promote your new channels and how to continue to produce effective channels that bring visitors back.
Web Channel Development for Dummies
is a great tool for the webmaster looking to make use of the freely available push technology to expand their readership. A quick and easy way to learning webcasting skills.
---
Click Here For Computer/Web Design Book Reviews Page One
Return to Book Reviews Index
---
More from Writers Write