Computer Book Reviews
The Internet Writing Journal
Page Two of Two
Using Dynamic HTML by David Gulbransen & Kenrick Rawlings
Que, Oct., 1997.
Trade Paperback, 579 pages.
ISBN: 0789714825
Ordering information:
Amazon.com.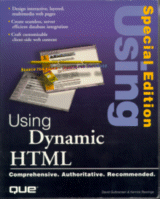 Using Dynamic HTML
provides in-depth coverage on how to use the new features involved in Dynamic HTML, including Javascript, Cascading Style Sheets, CSS Positioning and data binding. The book explains each topic and gives detailed instruction, including samples and source code. A chapter on CSS Positioning teaches you absolute positioning which allows you to place text on a section of a webpage defined by you without using tables. A section on data binding teaches you how to provide data for your webpages without having to resort to CGI scripting. Another section provides details on event handling using Javascript, which allows you to program responses to a user's mouse click or when the user passes the mouse over a certain area of your webpage. The chapter on ActiveX shows you how to use filters to change the appearance of your images. These and other examples quickly show you how useful the features of Dynamic HTML are and how to achieve effective results.
Dynamic HTML is an excellent resource, providing the reader with instruction on how to implement the new technology in Dynamic HTML to improve your web site. A terrific reference that will help you keep you web skills up to date.
---
Teach Yourself HTML 4 in 24 hours 2nd Edition by Dick Oliver and Molly Holzschlag
Sams.net, Nov., 1997.
Trade Paperback, 400 pages.
ISBN: 1575213664
Ordering information:
Amazon.com.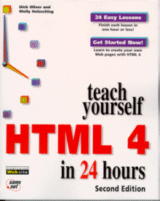 This book, packed with tips and source code, provides instruction on everything from basic code to style sheets and Javascript. HTML topics covered in the book include tables, forms, basics, frames, images, formatting and style sheets. The book also includes chapters on embedding images and sounds and adding Javascript and Java applets to your web pages. Each topic covered improves the learning curve by providing tips, a question & answer section, a quiz and activities for readers to try on their own. The book also has a companion website which includes HTML examples and links to useful resources for creating webpages.
Beginners will get the most use from this book, as it covers basic HTML and introduces recent advances in HTML coding, such as Style Sheets. The strong focus on using graphics and webpage layout provides the beginner with a quick guide to effective web design. An excellent guide for those looking to code their first webpages in HTML.
---
Web Animation for Dummies by Renée LeWinter & Cynthia L. Baron
IDG Books, Sept., 1997.
Trade Paperback, 384 pages.
ISBN: 076450195X
Ordering information:
Amazon.com.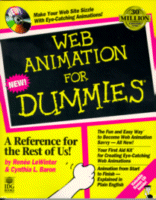 This unique guide to web animation offers solutions for those who are not programming experts and who do not have access to the most expensive graphic software. It provides the user with information and resources to create an animation for a webpage simply, using tools they already have or can be downloaded from the companion CD. It also teaches the user how to add animations to their webpages, The book covers many topics of graphics and animations including using clip art and photos in your animation, animating a series of images, choosing good colors, compressing images, using web animation software and lists of online resources. The companion CD also includes samples, graphics and software. The book is written in a user-friendly manner with an in-depth explanation of each step, including icons for tie-ins to the CD-ROM, warnings about where things can go wrong as well as screenshots and sidebars.
Web Animation for Dummies
is a great book for those looking to spice up their webpages without investing a great deal of time or money on expensive animation software. It will show you that there are many ways to create animations with shareware and graphics you can find online by using a little creativity. Excellent for those looking to add some dazzle to their homepages and for those whose HTML coding skills are solid but need to add a little graphics knowledge to their repertoire of skills.
---
Click Here For Computer/Web Design Book Reviews Page One
Return to Book Reviews Index