Computer Book Reviews
Page Two of Two
Maximum Security by Anonymous.
Sams, September 1998.
Trade Paperback, 828 pages.
ISBN: 0672313413
Ordering information:
Amazon.com.
This informational resource for webmasters and system administrators provides details on how hackers break into and how to protect Internet networks. The book includes information on methods used by hackers, what tools they use and how they can be prevented from hacking into your website. Topics covered in this security reference aide include: TCP/IP, hackers, crackers, security concepts, email bombs, viruses, destructive devices, scanners, password crackers, trojans, sniffers, firewalls, audit tools, Microsoft, Unix, Macintosh, remote attacks and security consultants. Instruction in the book is enhanced with screen shots, examples, web links and mentions of related resources. An enclosed CD-ROM includes third party security tools.
Maximum Security
is an excellent reference for any security conscious individual who works with Internet networks, especially network managers and operators. Readers will learn how to identify their network's weaknesses and how to prevent security breaks at these weak points. If you have never looked into the potential security pitfalls with Internet networks or you are concerned about possible security breaches, then
Maximum Security
is a must-have for your reference shelf.
---
Using & Upgrading PCs by Joe Kraynak, Winn L. Rosch.
Que, October 1998.
Trade Paperback, 910 pages.
ISBN: 0789716070
Ordering information:
Amazon.com.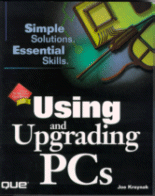 This computer reference book is a thorough resource on the many uses of your PC and how to upgrade it when necessary. The book provides instruction on hundreds of possible uses of your PC including: setting up a PC, maintenance, printing, using Windows, spreadsheets, word processing, managing files, connecting to the Internet, using the Web, newsgroups and online chatting. Upgrading procedures covered in the book include adding RAM, installing a hard drive, processors, DVD drives, monitor upgrades, modems, video boards, printers, scanners, digital cameras and audio components. Instruction is provided with text, procedural outlines, diagrams, screen shots and side bars which contain helpful tips.
Using and Upgrading PCs
is a terrific resource for PC users. PC novices who want to get the most out of their system should have this book handy for quick referencing.
---
Windows Performance Secrets by Mark L. Van Name, Bill Catchings, Richard Butner.
Que, September 1998.
Trade Paperback, 567 pages.
ISBN: 0789717522
Ordering information:
Amazon.com.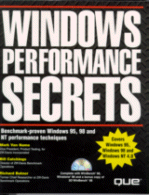 This reference book informs the reader about different components of the Windows operating environment and provides techniques to evaluate and improve system performance. The book covers the Windows 95, 98 and NT operating systems. Topics covered in the book include: benchmarks, software optimization, processors, RAM, graphics subsystems, disk drives, CD-ROM, portables and optimizing for games. Each section begins with cocktail party tips, which acts as an informal introduction to the topic similar to what you might hear discussed at a party and what the best answers would be to common questions. Each section also includes instruction and techniques to optimize performance for the subject at hand. Bar graphs, tables and screen shots help make the instruction easier to follow. The book also includes CD-ROMs with Ziff-Davis benchmark software that measures your PC's performance.
Windows Performance Secrets
is a detailed resource for those looking to learn more about their Windows system works and learn methods for increasing performance. In addition, you might pick up some useful advice to help break the ice at your next social function. An invaluable aide for serious Windows users.
---
Click Here For Computer/Web Design Book Reviews Page One
Return to Book Reviews Index
---
More from Writers Write