Computer Book Reviews
Page One of Two
HTML 4 Unleashed by Rick Darnell
Sams, October 1998.
Trade Paperback, 1284 pages.
ISBN: 0672313472
Ordering Information:
Amazon.com.
This comprehensive HTML resource contains instruction on HTML coding and related technologies including CSS, XML and scripting languages. The book provides in-depth analysis and instruction on topics including: HTML history, HTML coding, tables, links, anchor links, imagemaps, forms, embedding objects, CSS, layers, frames, JavaScript, objects, event handling, XML, databases, browser cross-compatibility and search engines. The book also includes quick reference sections on HTML concepts, JavaScript, XML, CGI, online web development resources and color values.
HTML 4 Unleashed
is a detailed and complete resource on HTML and web development. Recommended for webmasters for use as a solid reference book on the latest technologies, especially HTML coding and dynamic HTML.
---
HTML Goodies by Joe Burns
Que, November 1998.
Trade Paperback, 527 pages.
ISBN: 0789718235
Ordering information:
Amazon.com.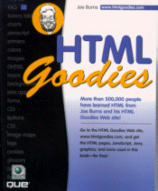 HTML Goodies
is a reference book based on the HTML Goodies website that teaches you the basics of HTML and how to implement the "goodies," the more advanced and cool features for your webpages. The instruction is provided in a friendly easy-to-follow manner with HTML code, screenshots, step-by-step procedures and FAQs from the HTML Goodies website. The first section of the book covers the basics including formatting text, making links and adding graphics. "Goodies" covered in the book include: animated graphics, frames, counters, link buttons, sound, video, pop up windows, channels and banner creation. The book also includes a color chart, ASCII commands and links to online resources.
HTML Goodies
is great aide for beginners which leads them through the basics and on to the more advanced topics. An HTML book that is also enjoyable to read.
---
Click Here For Computer/Web Design Book Reviews Page Two
Return to Book Reviews Index
---
More from Writers Write