Children's Book Reviews
Page Two of Two
By Nancy Littlejohn
Paddington Bear and the Busy Bee Carnival by Michael Bond, Pictures by R.W. Alley
HarperCollins, May 1998.
Picture Book, 29 pages.
ISBN: 0060277653.
Ordering information:
Amazon.com.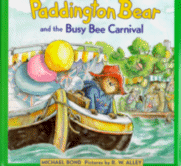 Not only does Paddington appear in board books and chapter books, but also here he is in a picture book for pre-schoolers or young elementary ages. As usual, Paddington is on a great adventure, this time a bit more complicated than his visit to Portobello Road. His very good friend, Mr. Gruber, takes him on a surprise outing to a part of London known as "Little Venice."
It's carnival time and they want to take part in all of the festivities. There is so much from which to choose, though. Mr. Gruber suggests the Busy Bee Adventure Trail where one has to find as many things as possible beginning with the letter B. Paddington thinks that is a wonderful idea, especially when he finds out that first prize is a boat ride for two! As they start out on the trail, the fun begins for all as your child helps Paddington find things beginning with B. Paddington and Mr. Gruber spot many items, but there are lots more they don't see which you and your child can find instead. Of course, since Paddington's involved more than just a word search ensues. He often has to stop to say hi to his many friends or to take part in whatever they are doing even fishing only to catch? a BICYCLE! He's followed by a BUSH which turns out to be a cheating little boy but Paddington wins the contest anyway because he suddenly remembers another word starting with B, BEAR! This book is tons of fun! The illustrations are even more detailed than usual to allow for all of the B words and every child likes a good treasure hunt. It's a good story with a happy ending (BEDTIME), and BEST of all, it teaches quietly but powerfully. Happy Hunting! BYE-BYE!
--Nancy Littlejohn
---
Paddington Bear Goes to Market by Michael Bond, Pictures by R.W. Alley
HarperFestival, June 1998.
Board Book, 12 pages.
ISBN: 0694008915.
Ordering information:
Amazon.com.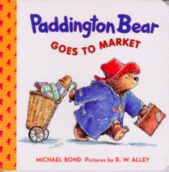 What would we do without Paddington Bear: that bear from darkest Peru, who is named after Paddington Station, London? Paddington has been delighting children for years with his antics, and now author Michael Bond with this latest in his series of board books about Paddington enables even very young children to enjoy the adventures of the bear with the blue coat, red hat and suitcase. This time we accompany Paddington on a shopping adventure down Portobello Road. He is on a mission and nothing slows him down, not the children on the road, not the shopkeepers preparing for their day, not the friendly bobby doffing his cap, not the little girl in the flower stall, not even the fruitseller. Why is Paddington in such a hurry? What finally stops him? It's the bakery lady, of course. Paddington must be first in line to get his morning bun to be enjoyed in the company of his good friend, Mr. Gruber.
Just like its companion book,
Paddington Bear: All Day
, (
see June reviews
), the bright, detailed illustrations will hold even the most jaded little one's attention. The rhyming text conveys Paddington's sense of urgency, and will catch up the reader in the mystery of where Paddington is going in such a hurry. All in all, it's a delicious book sure to become a favorite in every toddler's collection.
--Nancy Littlejohn
---
Click Here For Children's Book Reviews Page One
Return to Book Reviews Index
---
More from Writers Write
---