Children's Book Reviews
Page Two of Two
By Nancy Littlejohn
Paddington Bear: All Day by Michael Bond, pictures by R.W. Alley
HarperFestival, May 1998.
Board Book, 12 pages.
ISBN: 0694008931.
Ordering information:
Amazon.com.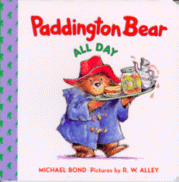 Paddington Bear All Day
is a charming book. Its delightful illustrations and large typeface are enhanced by the white background. They pop off the page to delight infants, toddlers and the adults reading to them. Paddington, a very British, very lovable bear goes through his daily routine jumping out of bed, donning his signature blue coat and red hat, eating breakfast, making messes, eating tea and then sleepily crawling into his snuggly bed. Children will enjoy the rhyming text. Adults will enjoy pointing out the glimpses of British life like the toast racks on the breakfast table, the Laura Ashley-esque wallpaper, tea served on a tray complete with cake and marmalade, and Paddington's large bedroom window overlooking the rooftops. It's one of those exceptional board books no one will mind reading over and over and over. It's one of those books!
--Nancy Littlejohn
---
Secret Garden by Frances Hodgson Burnett (adapted), Illustrations by Mary Collier
HarperCollins, May 1998.
Picture Book, 29 pages.
ISBN: 0060278536.
Ordering information:
Amazon.com.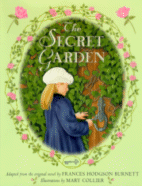 The Secret Garden
is one of those magical, captivating stories that has been a true classic of children's literature since its original publication in 1912. It has survived and thrived across the years beloved by children. It is a skillfully woven tale of lonely people brought together by a long neglected garden. It is enthralling reading, a masterpiece in the genre. This wonderful adaptation had a high standard to meet and it meets it well. At last, a worthy adaptation of
The Secret Garden
that brings its delights, magic, mystery and wonder to younger children complete with luminous, gorgeous illustrations.
Mary Lennox is a lonely, pathetic little girl whose parents died while posted to India. Mary is sent to live in England with her only relative, Uncle Archibald Craven. Martha, the housemaid, encourages Mary to explore the outdoors and entices her with the story of a secret garden that was locked up when Mr. Craven's wife died. Mary becomes entranced with the idea of a secret garden and cannot stop thinking about or looking for it. One day, with the help of a robin and a gust of wind, Mary discovers the key and the door to the secret garden. Mary unlocks the door and finds herself inside the garden. It has been long neglected and overgrown, but Mary spies some pale green shoots sticking out of the ground amidst the brambles. She is inspired to work in the garden every day to help bring it back to life. Martha's brother, Dickon, who has a way with animals, is waiting for Mary one morning with some tools and seeds. Mary decides to trust him with her secret since the animals trust him. Dickon has a way with gardens, too, so he and Mary become partners in waking up the garden.
There is yet another secret to be revealed. Late one night Mary hears someone crying. She follows the sound and discovers a boy! It is Mr. Craven's son, Mary's cousin Colin. Colin is an invalid whose mother died soon after he was born. Mary tells him about his Mother's garden, and for the first time in his life, Colin wants to see something outside his room -- the secret garden. When the weather becomes warm enough, Dickon and Mary take Colin in his wheelchair to see the garden they have nurtured. Colin is amazed with its beauty and is inspired to walk. Now all three of them make daily visits to their garden. Colin and Mary become stronger and more alive just as the roses and other flowers.
Meanwhile, Colin's father has a dream that his wife is calling him back to the garden he had locked up so long ago. He returns home from his travels to discover a healthy young boy dashing out of the garden and into his arms. It's Colin! Mary and Dickon accompany Colin and his father into the garden now ablaze with the glory of autumn. Mr. Craven is astonished with the story of how the children transformed the garden with hard work and a little magic. The secret garden has transformed all of them as well. Instead of sickly, lonely waifs Colin and Mary are happy and healthy children, and Mr. Craven can smile and enjoy life once more.
How wonderful that this lovely story is now accessible for a wider audience. The original work is a chapter book with often hard to decipher Yorkshire dialect included and few illustrations, depending on the version. This adaptation, changed into picture book format, has stayed true to the magic and symbolism of the original but with a much shorter, more easily understood narrative. Collier's glowing, detailed illustrations are perfect for this story. Her children are lovingly drawn. Her garden scenes are magical. The opening scene when Mary arrives at the manor hauntingly captures both Mary's and Mr. Craven's loneliness and isolation. The picture of Mr. Craven gazing out over a moonlit lake thinking about his wife and the garden is luminescent and authentically portrays his grief. His happiness over his son's miraculous recovery shows in his eyes. This is a perfect blending of story and illustrations each enhancing the other. It is a wonderful book to read together, to admire the art and to revel in the magic of a tale well-told.
--Nancy Littlejohn
---
Click Here for Children's Book Reviews Page One
Return to Book Reviews Index
---
More from Writers Write
---