Children's Book Reviews
Page Two of Three
Touch and Feel Kitten by DK Publishing
DK Publishing, April, 1999
Board Book, 12 pages.
Reading Level: Baby-Preschool
ISBN: 0789439905.
Ordering information:
Amazon.com.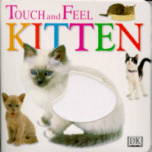 In those important early years when touching is so firmly linked to learning, a book like
Touch and Feel Kitten
is exactly what is needed. Each page is filled with a photograph of a different kitten, and part of the picture is a very attractive tactile inset. For the phrase, "touch my rough, pink tongue," the child is shown a photograph of an adorable kitten sticking its tongue out. The tongue is made of sandpaper, which the child can touch. The pictures of the cats and kittens are colorful and attractive. This book is perfect for vocabulary development in a young child, and will quickly become a child's favorite.
--Sarah Reaves White
---
Why Do You Love Me? by Dr. Laura Schlessinger, Martha Lambert, Illustrations by Daniel McFeeley
Cliff Street Books, 1999
Picture Book, 40 pages.
Reading Level: Ages 3-7
ISBN: 0060278668.
Ordering information:
Amazon.com.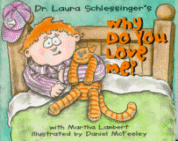 Well-known and very popular radio talk show host, Dr. Laura Schlessinger, has given us an important little book. Fans of Dr. Laura will want to use this book as an effective introduction of a very important subject to all children, the subject of unconditional love. At bedtime Sammy poses a question to his mother that leads him through just what unconditional love is. The subjects of good behavior, bad behavior, anger and character are all discussed simply so that a child can learn to sort out the differences between the emotions. The very understandable simile of unconditional love being like the sun on a cloudy day explains to a child how parents can be disappointed or angry with misdeeds, but that their love is always there. All children have these anxieties at some time: this book will be a great comfort to any child and a help to the parent. Dr. Schlessinger has done a masterful job of explaining emotions in a simple but forceful way.
The illustrations by Daniel McFreeley move this story along in a charming way. The drawings are a helpful addition to the narrative. The little red-haired boy, Sammy, has an endearing but perplexed expression on his face as he struggles to understand human emotions in their sometimes complex form. Every child will identify with the smug though doubtful expression on Sammy's face as he tries to pass off an inept job of picking up his toys on his mother. Toys can be seen under the lumpy bedspread and behind the door where he has shoved them. Any child struggling to be good while having strong, naughty feelings will identify with Sammy as Daniel McFreeley has portrayed him.
--Sarah Reaves White
---
Children's Book Reviews
Page One | Page Two | Page Three

Return to Book Reviews Index





---
More from Writers Write