Children's Book Reviews
Page Three of Three
The Quillan Games (Pendragon Adventures, Book 7) by D.J. MacHale
Simon and Schuster, May, 2006
Hardcover, 496 pages
ISBN: 1416914234
Ages 10 and up
Ordering information:
Amazon.com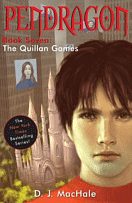 Bobby Pendragon is about to embark on his seventh adventure on the world of Quillan. The Territory of Quillan is a nightmare: a dull, lifeless population wagers everything they own on the brutal Quillan Games in which contestants engage in a variety of games, both physical and mental which were dreamed up by bizarre and cruel gamemasters Veego and LaBerge. The losers in these matches always die. Bobby lands on the world and is immediately taken as a Contestant in the games. The more he learns about this world (which is run by a giant, evil corporation called Blok), the more he realizes that it truly is at a tipping point in its history. Bobby meets the underground resistance, which is led by the mysterious Mr. Pop. The resistance wants to overthrow the corrupt Blok and return to the old, democratic society that once valued art, music and learning. But St. Dane has other plans for Bobby. Trapped as a Contestant, Bobby believes he must win the ultimate game in order to save the territory from destruction. Back on Second Earth, Courtney is recovering from her accident and her encounter with St. Dane. Courtney realizes that she must make contact with Bobby to tell him about St. Dane's horrific activities and how he's managed to infiltrate Courtney, Bobby and Andy's lives.
The Quillan Games
is the best book yet in this excellent young adult series. D. J. MacHale has been building his story arc over the last six books and in this book, readers get some shocking answers about the Travelers and the Territories. MacHale puts his young protagonists through some wrenching experiences and the surprise ending is a real jaw-dropper. This is one series that just gets better and better.
--Claire E. White
---
Victory by Susan Cooper
Margaret K. McElderry, July, 2006
Hardcover, 208 pages
ISBN: 1416914773
Ages 9-12
Ordering information:
Amazon.com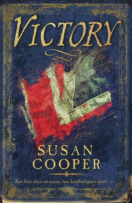 Eleven year-old Molly Jennings is facing a crisis in her life. Not only has she been uprooted from her beloved London flat and moved into a large house in Connecticut in the huge, noisy United States, but she must deal with being part of a blended family. At the end of summer she will attend a large American middle school. Most of all, Molly misses her grandparents back in England and her friends from school. But one rainy afternoon things begin to change. As the family tries to find shelter from an afternoon thunderstorm in the historic seaport town of Mystic, Molly spots a shelter inside an old bookshop. While others in the family find interesting books on the sea in other parts of the shop, Molly is somehow drawn to some pictures of Trafalgar Square and some nearby books about Lord Nelson. One book in particular draws her to it. This book,
The Life of Nelson by Robert Southey
, begins to have its powerful influence on Molly.
That night in her bedroom Molly discovers a piece of heavy paper folded into an envelope; what is inside the envelope links Molly to an eleven year-old boy who had sailed on the
Victory
with Lord Nelson and had suffered through that terrible battle against Napoleon's navy, fought at Trafalgar. This is the link that ties these two lives together, and leads to a surprising climax.
Susan Cooper deftly tells the tale of the twentieth century girl and the eighteenth century farm boy who was impressed into the British navy. Each of these two young persons suffers the problems peculiar to their place in time. Molly's story is told by the author, and Sam Robbins tells his story in the first person. The brutality of a sailor's life comes alive as we follow Sam's adventures and sufferings both above and below decks. The injustices visited on British citizens forced to work in virtual slavery are shocking to the modern reader, and the author describes the practices of impressment in unflinching detail.
Victory
is a riveting story full of mystery and adventure that should appeal to both boys and girls. The use of parallel lives in different times and places leads the young reader into an unglamorized and factual view of the problems that young people faced in earlier times with all the ugliness and struggle laid bare. And after all, that is when the real joy of studying history begins: when the reader -- young or old -- begins to see historical figures as real people with real emotions, not as faceless abstractions.
--Sarah Reaves White
---
Children's Book Reviews
Page One
|
Page Two
|
Page Three
---
Return to Book Reviews Index
---
More from Writers Write