Children's Book Reviews
Page One of Three
An Egg is Quiet by Dianna Aston and Sylvia Long
Chronicle Books, April, 2006
Picture Book, 36 pages
ISBN: 0811844285
Ages 3 and up
Ordering information:
Amazon.com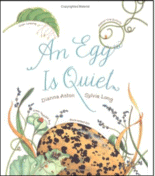 The humble egg is raised to an object of veneration in this beautiful combination of text, scholarship and art. The reader will derive as much pleasure from it as the lucky child to whom it is read. And both will never look at an egg again without a sense of wonder and reverence. From first opening the book and finding the endpapers to be patterned after a bird's eggshell, and then turning the page to find two pages filled with all the many possibilities, the reader is challenged to identify the particular bird's egg. All at once the reader is challenged to take a closer look at what the avian family produces.
This beautiful book enlightens on three levels: art, science and language. How can it be that an inspired illustration can identify facts better than a photograph? It obviously takes an illustrator of Ms. Long's caliber to achieve. One illustration shows the many colors of eggs by placing a color scale that runs from turquoise to pink. Another page shows size by placing a ruler at the top. Yet another page discusses texture. The possibilities for adding to vocabulary are rich and varied. At the end is a page of the birds that can be matched up with the eggs at the beginning.
An Egg is Quiet
is a book that will no doubt be enjoyed again and again.
--Sarah Reaves White
---
Flyte (Septimus Heap, Book 2) by Angie Sage
HarperCollins, March, 2006
Hardcover, 528 pages
ISBN: 0060577347
Ages 9 and up
Ordering information:
Amazon.com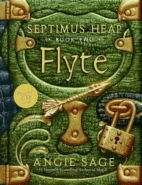 Sibling rivalry is the fuel for this second adventure of Septimus Flyte, the seventh son of a seventh son and new Apprentice to the ExtraOrdinary Wizard Marcia Overstrand. At the end of the first book, the evil DomDaniel had been destroyed (one never really knows with fantasy villains, though) and Septimus thought his troubles were over. But DomDaniel is far from dead and he's determined to destroy Marcia with the use of a Darke Shadow that follows Marcia around and seems to be growing bigger day by day. DomDaniel has managed to convert Septimus' jealous older brother Simon to his cause which was rather easy, given Septimus' fury at being deposed as the next Apprentice. Simon heads to the castle and kidnaps Princess Jenna, the next heir to the throne, and it's up to Septimus to recover her and save Marcia's life. Meanwhile, DomDaniel continues his evil machinations, including the search for the legendary Flyte charm, which allows the holder the power of human flight.
Septimus Heap has grown quite a bit from his first adventure: he's found his name, his profession and his family. But greater maturity merely leads to greater challenges, as Septimus finds out in this entertaining adventure. Angie Heap brings back the lovely flying Dragon Boat and introduces us to the mysterious ice tunnels underlying the Castle which one can navigate by use of sleds. She also gives Septimus an interesting new companion: a dragon hatchling that immediately imprints upon Septimus. Ms. Sage's engaging sense of humor, an appealing protagonist and the scene-stealing Marcia (who is never without her purple python boots) make this a vastly enjoyable read that ends all too soon.
---
Children's Book Reviews
Page One |
Page Two
|
Page Three
---
Return to Book Reviews Index
---
More from Writers Write