Children's Book Reviews
The Internet Writing Journal
Page Two of Two
Nobody Rides the Unicorn by Adrian Mitchell, Illustrated by Stephen Lambert
Arthur Levine Books, April 2000.
Picture Book, 32 pages
Ages 4-8
ISBN: 0439112044.
Ordering information:
Amazon.com.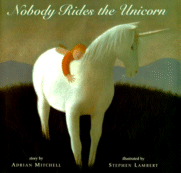 In the faraway land of Joppardy, the evil king is paranoid that someone was trying to assassinate him. An equally evil doctor tells the king that he must drink from a goblet made of a unicorn's horn, and eat with utensils made from a unicorn's horn. So the king tricks the beggar girl Zoe into trapping the unicorn for him. Zoe has a golden voice, and sings to the unicorn in the forest: "Nobody rides the unicorn, he grazes under a secret sun, his understanding is so great that he forgives us, every one." The unicorn comes and lays his head in her lap. The king captures the unicorn and ties him to a tree in preparation for removing its horn. Appalled that she had been so cruelly tricked, Zoe defies the king and releases the unicorn, for which act she is banished. But Zoe finds her friend the unicorn, and is allowed to ride the unicorn (she's a Nobody, after all) into the secret valley where the unicorns dwell.
The story of a small girl who defies a king to do what is right is a touching one. Stephen Lambert's paintings are soft, dark and ethereal, and perfectly match the lyrical prose style of the text which is Adrian Mitchell's hallmark. This is a haunting story with a magical feel to it, and is sure to be a particular favorite on young girls' bookshelves.
---
Millennium Children's History of the 20th Century With CD-Rom
DK Publishing, July 2000.
Hardcover, 344 pages
Ages 9-12
ISBN: 0789454750.
Ordering information:
Amazon.com.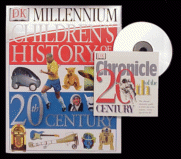 What will you tell your children or grandchildren when they ask you what it was like to live in the 1900s? Will you recall the invention of the microchip, the day President Kennedy was shot or some other event that changed the course of our history? DK Publishing has provided an incredible historical record of the 20th century that is perfect for children of all ages. This massive reference tells the story of this past century month by month, year by year with vivid photographs and capsule explanations of important events in our history. Topics such as fashion, politics, science, natural disasters, pop culture and wars are all covered for each decade. In-depth explanations for important subjects, such as the end of apartheid in South Africa, are also provided. This version also comes with a CD-Rom. This exhaustive, interactive resource cross references events, people, innovations and news headlines in an easy to use format. From the heartbreak of the Holocaust to the international joy when man first walked on the moon, the last century is vividly portrayed in this invaluable reference that no family should be without. Highly recommended.
---
Children's Book Reviews
Page One | Page Two

Return to Book Reviews Index