Children's Book Reviews
The Internet Writing Journal
Page One of Two
The Miserable Mill (A Series of Unfortunate Events) by Lemony Snicket, Illustrations by Brett Helquist
HarperCollins, April 2000
Hardcover, 194 pages
Ages 9-Adult
ISBN: 0064407691.
Ordering information:
Amazon.com.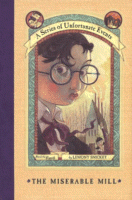 The wealthy and yet hopelessly unlucky Baudelaire orphans (Violet, Klaus, and the infant Sunny), having just escaped the evil Count Olaf in their last adventure (
See, The Wide Window
) are let down once again by their woefully inadequate guardian, Mr. Poe. Mr. Poe knows that Count Olaf follows the children and tries to steal their fortune, but he insists that the latest home he has found for them will be just fine. It's not, of course. The three plucky orphans are sent to work and live in a horrid lumber mill. And, of course, Count Olaf returns in disguise. The orphans always seem to avoid disaster (and bodily injury) by the skin of their teeth, due to their native intelligence and resourcefulness. But will they ever find a good home?
The Miserable Mill
is the fourth book in the hilarious dark comedy series by the pseudononymous Lemony Snicket. We see tempting tidbits of Mr. Snicket's own life throughout the story (his failed romance with the unattainable and mysteriously dead Beatrice is apparently the source of great despair for him). In any event, the author's crisp wit, droll humor combined with Brett Hilquist's marvelous drawings make for a unique and compelling reading experience. Highly Recommended.
--Claire E. White
---
The Mysterious Adventures of Foy Rin Jin by Jim Friedman, Pictures by Patti Stren
HarperCollins, 1999.
Picture Book, 40 pages
Ages 4-8
ISBN: 006028000X.
Ordering information:
Amazon.com.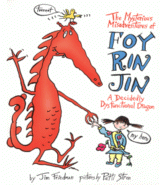 Foy Rin Jin is a lovely, big red dragon. When he comes of age, he joins the other young dragons on the mountain to learn the secrets of breathing fire. All the other young dragons belch forth fire after learning the secret. But, to his complete horror, Foy Rin Jin spews forth torrents of water instead of fire. No matter how he practices, he still can't breathe fire. His disability makes him so miserable that he runs away from home. He discovers "Peoples" who rejoice after he accidentally puts out a raging fire in the City Hall (he was trying to make a bigger fire). Now a hero, Foy Rin Jin is given a hat and a bell, and carries the townsfolk to any big fire, which he speedily puts out. Patti Stren's colorful and inventive pictures are the perfect accompaniment to this delightful tale which young children are sure to want to hear over and over again. The pun on the name (Foy Rin Jin = Fire Engine) is not revealed until the last page when it is suggested that this is how fire engines got their name. Jim Friedman and Patti Stren make a wonderful duo, and this book is a real winner.
---
Children's Book Reviews
Page One | Page Two

Return to Book Reviews Index