Children's Book Reviews
Page Two of Three
Love One Another: The Last Days of Jesus by Lauren Thompson, Illustrated by Elizabeth Uyehara
Scholastic, March 2000.
Picture Book, 32 pages
Ages 4-8
ISBN: 0590318306.
Ordering information:
Amazon.com.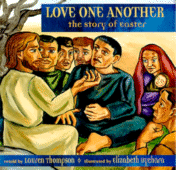 Lauren Thompson takes on the difficult task of describing the story of Jesus' death and resurrection in this inspiring and moving picture book. Drawing from the books of Matthew, Mark, Luke and John, Thompson uses simple and heartfelt language to express the emotional content of the story of Jesus' betrayal by Judas Iscariot for 30 pieces of silver. "Jesus was deeply grieved and troubled. He knew that something terrible would soon happen." After the soldiers take Jesus away, he is crucified. But then he appears to Mary Magdalene and instructs her to tell his beloved disciples what she has seen. "But the disciples did not believe her. They were deep in mourning, weeping with grief and remorse. For they knew they had deserted him and then he had died." After Jesus appears to the disciples, they are filled with happiness and go forth to spread the good news of the Resurrection.
Elizabeth Uyehara's oil paintings are done in the primitive style, with bold brushstrokes and thick outlining which complement the writing style perfectly. The colors of the pictures are cooler towards the beginning of the story -- when Jesus is alone the night before his capture the background is all in blues, greens and greys. After the Resurrection, the paintings take on a bright, joyous hue. When Jesus appears to his disciples, he is surrounded in an almost unbearably bright gold and red, foreshadowing the colors of Pentecost. Christians will find this to be a wonderful and important addition to their children's book collection.
---
A Perfect Cuddle by Dee Shulman, Illustrations by Sue Porter
Cartwheel Books, April 2000.
Board Book, 10 pages
Ages Baby - Preschool
ISBN: 0439129141.
Ordering information:
Amazon.com.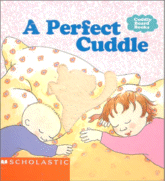 Children can cuddle up with this latest board book from Dee Shulman and Sue Porter which describes a baby's search for his favorite teddy bear to cuddle up with for bedtime. "Who will you cuddle with in bed tonight?" the older sister asks her baby brother. "Let's look in the bathroom." But the bear isn't hiding in the pull-out pocket of a bathrobe. The search continues in the kitchen, with a pop-up highchair tray and finally they find the bear behind some pillows on the sofa. The teddy bear is furry and soft, and baby can touch the perfectly cuddly bear then have a good night's sleep. The illustrations are colorful and light, and the lift the flaps fit in perfectly with the searching theme. This is sure to be a bedtime favorite.
---
Children's Book Reviews
Page One | Page Two | Page Three

Return to Book Reviews Index





---
More from Writers Write