Children's Book Reviews
Page One of Three
The Fairies: Photographic Evidence of the Existence of Another World by Suza Scalora
Joanna Cotler Books, November 1999
Hardcover, 48 pages
Ages 9-Adult
ISBN: 0060282347.
Ordering information:
Amazon.com.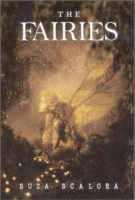 Commercial photographer Suza Scalora takes on the persona of an archeologist who sets out on a journey to finish a manuscript by a 19th century anthropologist entitled
Field Guide to Fairies
. Our intrepid researcher studied the notes of the scientist which detailed how to attract and where to find fairies of all kinds, then set out to capture a photographic record of all kinds of fairies. From Twyla, the Twilight-Blue Fairy seen in the Monteverde Cloud Forest in Costa Rica, to the ruthless Black Swan Fairy Vivian seen in Porto Alegre, Brazil who can paralyze a human with a look, to the innocently sleeping Laurel, the Purple Sleeping Fairy found in the Hawaiian islands, Suza Scalora's beautiful, eerie and haunting full-page photographs prove that, once and for all, fairies are real. With each photograph, the author gives alternate names, the sighting date and place, the history of the fairy, lures that can be used to find the fairy and notes of the author's fascinating encounters with these ethereal creatures.
Scalora is a photographer of great talent. Her studio skills are formidable, as is her talent with composition, textures and color; it is obvious that the book took an immense amount of time to create, with many hours in the sets and labs. The end result is a book which could almost convince you that if you look hard enough, maybe you too will spot an ethereal fairy hovering nearby.
---
The Field Mouse and the Dinosaur Named Sue by Jan Wahl, Illustrated by Bob Doucet
Cartwheel Books, April 2000.
Picture Book, 48 pages
Ages 4-8
ISBN: 0439099846.
Ordering information:
Amazon.com.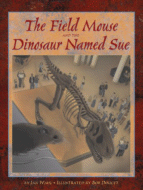 In 1990, a fossil hunter named Sue Hendrickson found some bones in South Dakota, which later turned out to be the largest and most complete Tyrannosaurus rex ever found. The T. rex was named Sue, and now resides in Chicago's Field Museum. Now Jan Wahl takes this incident and creates a charming tale from a totally different perspective. A Field Mouse comes back to his home to find people digging and that his cherished bone which served as his roof is missing! The mouse goes in search of his bone, and ends up in the crate that is heading off to the museum. The Field Mouse doesn't know what to think of his new home -- he has to hide during the day and food is hard to find. But one day a new exhibit is revealed -- and the Field Mouse recognizes part of the foot of the giant T. rex as his own bone. So he makes a cozy little nest under the foot, then settles in for a good sleep and some happy dreams in his new home.
Jan Wahl does an excellent job of describing the steps involved in excavating and displaying a dinosaur skeleton, with a fresh and unique point of view. The Field Mouse is a perfect foil for the giant, long-dead carnivores, and provides a cuddly narrator that children will love. Bob Doucet's illustrations are warm and accessible, rendered in muted earth tones which complement the settings of the hills of South Dakota and the interiors of the museum. Small children will no doubt want to hear the story of the little Field Mouse who met a dinosaur over and over again.
---
Children's Book Reviews
Page One | Page Two | Page Three

Return to Book Reviews Index





---
More from Writers Write