Children's Book Reviews
Page Two of Two
Wake Up, Goodnight Charlotte Zolotow, artist Pamela Paparone
Harper Growing Tree, Feb., 1998.
Storybook, 10 pages.
Ages: 1 and up.
ISBN: 0694010324.
Ordering information:
Amazon.com.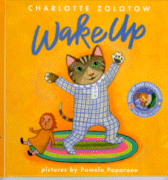 Surprise! Two books in one! The dual sides, which involve turning the book around, will fascinate your child. You can start from either side depending on the time of day or your child's mood and enjoy a delightful story by one of the most respected children's authors, Charlotte Zolotow. On one side, different animals are vividly portrayed going through the everyday rounds of waking up like getting out of bed, brushing teeth, eating breakfast and going out to play. Although the text is simple, it cheerfully calls for baby to wake up! When it's time for bed, just turn the book over for a soothing bedtime story. Mama Bear is cuddled up with Baby Bear reading a story. Bunking bunnies listen to the whisper of the trees and a kitty holds her doll as shooting stars and a crescent moon shine overhead. Finally, all the baby animals are peacefully asleep in their own houses as the book ends with a simple "goodnight." Whether waking up or going to sleep, the mood is appropriately set for your child's favorite and comforting routines.
-- Nancy Littlejohn
---
Do You Know New? by Jean Marzollo, artist Mari Takabayashi
HarperFestival, Feb., 1998.
Board Book, 12 pages
Ages: newborn and up
ISBN: 0694008702.
Ordering information:
Amazon.com.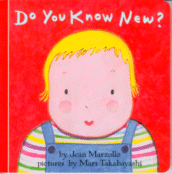 From the moment infants and toddlers spot the bright red cover with big blonde baby they will want to grab this book and go. Don't let them get too far, though, because there are even more of the fun and funny illustrations inside. Little ones love to look at pictures of other little ones and there are plenty of those along with a hilarious cow and, best of all, a real mirror at the end for them to see themselves. Be sure to point out the colors and the patterns along the way, and make much of the mooing of the cow. (Come on now. Let yourself go. The more you moo the more they'll coo.) Play peek-a-boo with the baseball capped boy and really carry on over your child's face in the mirror. The text is rhythmic and rhymes which makes for great reading aloud. Try to get a beat going as you and your baby enjoy this book together.
-- Nancy Littlejohn
---
Click Here for Children's Book Reviews Page One
Return to Book Reviews Index