Children's Book Reviews
Page Two of Two
The Hobbit, A 3-D Pop-Up Adventure by J.R.R. Tolkien, Illustrated by John Howe
HarperFestival, 1999
Hardcover, 10 pages
Ages 4-8
ISBN: 0694014362.
Ordering information:
Amazon.com.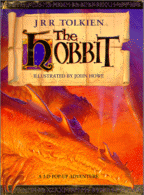 Fans of J.R.R. Tolkien's fantasy classic,
The Hobbit
, will thrill to see this beautifully rendered pop-up edition of the story. The book opens with the infamous tea party at Bilbo Baggins' comfortable hobbit hole, in which Gandalf the wizard (who pops out of the front door when the latch is opened) arranges for a treasure hunting expedition with the dwarves and a reluctant Bilbo. A pull-out card with text give the flavor of the scene, as the dwarves call out their orders of food to a confused Bilbo, who is not at all sure he likes the sound of adventures, dragons and gold. There are five, two-sided pop-up pages in the book. In addition to the tea party scene, the book also showcases Bilbo's meeting under the mountains with the slimy Gollum, his battle with the spiders in the forests of Mirkwood, his encounter with the mighty dragon, Smaug, and the Battle of the Five Armies which is the climax of the tale. The illustrations are superb, with beautiful shadings and colors, and intricate detail. This is a must-have for any Tolkien-lover, and for children who are just making their acquaintance with the enduring classic that is
The Hobbit
.
---
Morning, Noon and Night by Jean Craighead George, Paintings by Wendel Minor
HarperCollins, 1999.
Hardcover, 32 pages
Ages 4-8
ISBN: 0060236280.
Ordering information:
Amazon.com.
Jean Craighead George, author of over eighty children's books, including the Newberry Medal-winning
Julie of the Wolves
, celebrates the cycle of morning, noon to night as observed by animals found across the United States, from Maine to California. The book begins with the phrase, "Good morning, the dawn, when the earth is turning from night to day and waking begins," which is beautifully illustrated in vibrant oranges, greens and browns showing a dolphin observing the sunrise over the land and the last beams of the lighthouse over a nearby promontory. Animals such as the stork and the cardinal stretch and sing to greet the day. As the sun comes up, work begins for the oxen, the eagle, and the bees. As the day progresses we see the activities of different animals, until at last it is evening again, and the owlet sings, "Who, the night, Who, Who?" The story ends with the beginning of yet another day.
The wildlife paintings by Wendell Minor are vivid, colorful and perfectly complement the lyrical quality of George's writing. The book will be visually appealing to children, and is an excellent aide for teaching them about the cycle of our own days, as well as the habits of animals in the wild and on the farms.
---
Children's Book Reviews
Page One | Page Two | Page Three

Return to Book Reviews Index





---
More from Writers Write