Children's Book Reviews
The Internet Writing Journal
Page Two of Two
A Handful of Beans by Jeanne Steig, Pictures by William Steig
Michael di Capua Books, October 1998.
Hardcover, 141 pages.
Reading Level: Ages 4-8
ISBN: 0062051628.
Ordering information:
Amazon.com.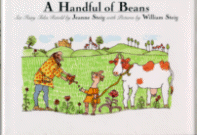 A Handful of Beans
is a collection of six classic fairy tales ("Rumpelstiltskin," "Beauty and the Beast," "Hansel and Gretel," "Little Red Riding Hood," "The Frog Prince," and "Jack and the Beanstalk") retold with the original tales intact, but with some additional wit and humor, William Steig's humorous illustrations, and a wonderful little rhyming couplet at the end of the tale which comments on the previous story. After Rumplstiltskin's demise, the author comments: " Is it wicked to smile?/Well, the villain
was
vile./And as for the King,/Rapacious old thing,/ He got all the loot./And a princess to boot!/" Why buy yet another version of the classic fairy tales? Well, because this version is fresh, funny and has wonderful silly verse which only adds to the enjoyment of the classic tales. The Frog Prince teaches a valuable lesson about keeping one's promises, and the expression on the Princess's face when forced to keep her promise to befriend the frog after he finds her golden ball is priceless. A wonderful retelling of the classic fairy tales which is sure to enchant both adults and children alike.
---
Life With Bob by William Joyce
Laura Geringer Books, October 1998.
Board Book, 20 pages.
Reading Level: Baby through Preschool.
ISBN: 0694011819.
Ordering information:
Amazon.com.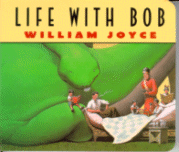 The charming
Dinosaur Bob
is back in another board book adventure which has been adapted from the original, lengthier book by talented children's author and illustrator, William Joyce. Bob, the giant green dinosaur -- a friendly looking brontosaurus -- is living happily with his adopted family, the Lazardos. They paint pictures, they go to school, they read books after school with friends, and play games like hide and seek. One day, Bob decides to join some friendly dogs in a game of chasing cars -- a big mistake. Bob actually catches one! (No one is hurt, though). This incident makes everyone extremely unhappy, including the local constabulary. But Bob, a likeable soul, promises never to chase cars again and happiness is restored to Bob, his family and the town.
Dinosaur Bob
is a wonderful invention which children will love. Much more appealing than television's Barney, Bob is a joy to watch. The illustrations will appeal to children, with their vivid color, friendly dinosaur and whimsical tone. Set in a time period reminiscent of the 1930s, the pictures will captivate parents as well with their sense of humor and period detail. A wonderful introduction to the world of
Dinosaur Bob
for toddlers.
---
Today I Feel Silly and Other Moods That Make My Day by Jamie Lee Curtis, Illustrated by Laura Cornell.
Joanna Cotler Books, 1998.
Picture Book, 32 pages.
ISBN: 0060245603.
Ordering information:
Amazon.com.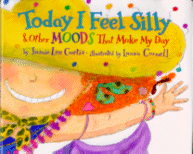 Popular actress Jamie Lee Curtis and artist Laura Cornell have teamed up again to continue the wonderful children's series started with
Tell Me Again About the Night I Was Born
.
Today I Feel Silly
is a picture book which teaches children about the different moods they may feel, with a catchy rhyming text and vivid, colorful illustrations that are sure to captivate children's attention. "Today I feel silly/ Mom says it's the heat/I put rouge on the cat and gloves on my feet/" Later on, the moods turn darker: "Today I am angry./ You'd better stay clear./ My face is all pinched and red ear to ear." The message at the end of the book is clear; emotions are natural and are nothing to be afraid of. At the end of the book is a Mood Wheel, where the child can dial up different emotions picking different mouths and eyes to put on the pictured face. This book is an excellent tool for a teacher or parent to use to explain about why we feel the way we do, and then to explain what is an appropriate way to express the myriad of feelings the child will feel in his/her life. With the vivid illustrations and silly, fun rhymes, this is one book that your child will want to read again and again.
---
Click Here For Children's Book Reviews Page One
Return to Book Reviews Index