Children's Book Reviews
The Internet Writing Journal
Page One of Two
Ahmed and the Oblivion Machines by Ray Bradbury, Illustrated by Chris Lane
Avon Books, December 1998.
Hardcover, 30 pages
ISBN: 0380977044.
Ordering information:
Amazon.com.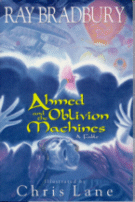 Ahmed, a young boy, is dying of thirst in the desert after having lost his father and caravan. Crying for the loss of his father and his future, Ahmed's tears land on the statue of a God buried beneath the sand, which, to his astonishment, comes to life. The God, Gonn-Ben-Allah, relieved to be awakened from thousands of years of slumber, tells Ahmed he is the one he has been waiting for, and they must go on a journey. Gonn-Ben-Allah shows Ahmed the history of flying through visions as Ahmed and the Gonn-Ben-Allah fly through time. Gonn-Ben-Allah shows Ahmed man's failures in flight throughout time including the wings of Icarus which were held together by wax that melted in the sun, young men who build wings and fall to their death and other early attempts at flight that end in disaster -- however, all these brave attempts eventually led to mankind's success. After telling his tale and teaching Ahmed the values of human exploration and discovery, Gonn-Ben-Allah leaves Ahmed, who finds his father and begins dreaming of his own future, envisioning himself inventing an aircraft of his own.
This masterful tale from renowned Fantasy/SF author Ray Bradbury, teaches the value of life's experiences and the importance of curiosity and discovery. Delightful images of flying machines and Gonn-Ben-Allah by illustrator Chris Lane, help liven up this children's fantasy. Children will love this tale of time and flight which is a wonderful introduction into the fascinating and imaginative worlds of Ray Bradbury.
---
Cow Moo Me by Stephen Losordo, Illustrated by Jane Conteh-Morgan
Harper Growing Tree, September 1998.
Board Book, 14 pages.
Reading Level: Baby through Preschool
ISBN: 0694011088.
Ordering information:
Amazon.com.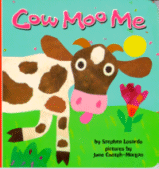 Cow Moo Me
is a charming board book full of rhyming words about a series of animals and their functions in life. The book opens with the nonsense rhyme, "Cow moo me/cow moo you/ cow moo milk/cow moo moo/." The rhymes are accompanied by colored collage paper cut out illustrations which give the pages a colorful, silly and happy appearance. The joyful pink pig lolling in a mud puddle is especially funny and should appeal to very young children.
---
Click Here For Children's Book Reviews Page Two
Return to Book Reviews Index