Angle of Impact by Bonnie MacDougal Review
Ballantine Books, April, 1998.
Hardcover, 355 pages.
ISBN: 0345414454.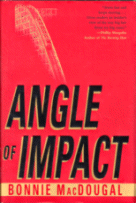 Dana Svennson is a high-powered Philadelphia trial attorney who seems to have it all: a fast track career, a beautiful home and an adoring husband and daughters. But appearances can be deceiving. Dana's rise to the top has had a terrible personal toll: her marriage is crumbling and she doesn't see her beloved daughters nearly enough. While on her way to a client meeting Svenssen witnesses a horrible midair collision between a helicopter and a small airplane over a an amusement park where Dana's children are spending the day. What's worse is that Dana was actually on the phone with her clients who were in the helicopter at the time of the crash. She rushes to the scene of the crime to find her children. After determining their safety, her problems swiftly multiply as she becomes lead counsel to defend Pennsteel in the numerous lawsuits which spring up in the afermath of the horrible accident. Despite having a team of forensic experts working round the clock on the case, determining the cause of the bizarre accident proves nearly impossible due to the mysterious explosion after the crash which destroyed all the evidence. When Dana's house is broken into and her husband is kidnapped, Dana is thrust into a nightmare world of terror and intrigue as she works to solve the case and save her husband's life.
With Angle of Impact, trial lawyer Bonnie MacDougal firmly cements her standing as one of the premier authors of legal thrillers today. In Dana Svennson MacDougal creates a strong, complex heroine with which any career woman can identify. With the plethora of legal thrillers on the market today, MacDougal's voice rises above the crowd with her clear, incisive plotting and characterization, her crisp dialogue and her stunning ability to convey excitement and suspense throughout the story. A gripping, exciting read you'll remember long after you've put the book down.
Ordering information: Amazon.com.
---
More from Writers Write
---