Mothers Who Write: Amy Bloom
by Cheryl Dellasega, Ph.D.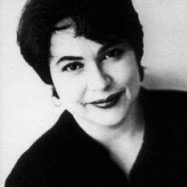 Author Amy Bloom

"Jessie and June were a mutual admiration society of two smart, strong, blue eyed women, one five and one thirty-five, both good skaters and good storytellers. Jane didn't mention this to other mothers at play group, who would have said it was the same between them and their daughters when Jane could see it was not, and she didn't mention it to her own sweet, anxious mother, who would have taken it, understandably, as a reproach. June didn't even mention this closeness to her pediatrician, keeper of every mother's secret fears and wishes, but it sang her to sleep at night."
--From Even a Blind Man Can See How Much I Love You by Amy Bloom
Amy Bloom, a resident of Connecticut, is the mother of three children: one boy and two girls, ages 35, 21, and 18. She began her career with an undergraduate degree in theater and political science and went on to work as an actor. After parts in several productions, she came to the conclusion she didn't have a future as an actor or director. When she married and had her children, she decided to attend graduate school and obtain a social work degree. That led to clinical work as a therapist for ten years, until she found herself drawn to writing. Now, she continues to maintain a tiny counseling practice (about four hours a week) and spends the rest of her work hours writing.
Ms. Bloom, a National Book Award finalist, has been described as a writer who is "sharp and funny, rueful and uncompromisingly real."
Booklist
says of her latest book,
A Blind Man Can See How Much I Love You: Stories
(Random House, 2000), "It is difficult to know where to begin to praise this masterful collection of short stories." About
Love Invents Us
, the
Los Angeles Times
says, "Bloom is a truly excellent writer. . . lyrical and funny. . . . There is a line worth quoting on almost every page of this book." The
New York Times Book Review
notes that, "Bloom describes complicated emotional states with great sensitivity and tenderness." Her writing is so true to life, a reader noted that: "Real people inhabit these pages, the people we know and are, the people we long to be and are afraid to be..."
Her work has appeared in
The New Yorker
,
Anataeus
,
Story
,
Mirabella
,
Self
,
Vogue
, and
Talk
,
The Best American Short Stories
, and The O'Henry Awards. To date, she has published three books:
Come to Me: Stories
(Harperperennial Library, 1994),
Love Invents Us
(Vintage Books, 1998), and
A Blind Man Can See How Much I Love You
(Random House, 2000).
What inspired you to write?
I don't really know, and don't care if I ever find out. Originally, I wrote mysteries, but then a short story just came to me so I wrote it out and ended up publishing it in an obscure Canadian feminist journal. Later, it was selected to be in
The Best American Short Stories
. My second and third stories were in
Story
and
The New Yorker
, so I was successful in continuing to publish. I had the needed equipment: a typewriter. I didn't have an MFA (Master of Fine Arts), but if you look over the last 400 years, most of the good writers didn't, either.
How old were your children when you started to write?
They were 8 and 10, and my oldest son was grown. When I started, I wrote late at night, after they were in bed. I could do that and get away with it because I'm not much of a housekeeper and I didn't need much sleep. I liked my kids and didn't care much about my house, so it worked.
From a practical standpoint, how has being a mother affected your writing?
Initially, there was nothing convenient about writing for me, and there were points when writing even interfered. I'd be in the middle of a sentence and someone needed to go to mall for new shoes, so the sentence would be lost, but I felt my primary, most important job was to raise my kids. I did the writing if I had the time, and if I didn't, I would come back to it. My attitude was: "Sooner or later, I will get this page right."
If I had to do it again, though, I'd try not to work full time. In the beginning, I had a lot of energy and a belief in writing, so I could do it, but I've never had unlimited time to just write. There were always limits and deadlines, but it's what pays the bills.
Being a mother has influenced the themes I write about, too. My most recent book is full of stories related to motherhood, but I don't see myself in the mothers who are characters in my books. Well, maybe the ones who appeal to me.
But writing with children present is not productive. They really never go away. My daughter made a sign for my study door that says "Come in," on one side, and on the other side it says: "Knock first, then come in." That's a perfect description of me as a writer.
Does it make your children uncomfortable to have a mother who is a writer?
No. All three of my children read before they were four years old, so they thought it was kind of cool that I was a writer. If I did have something I wanted to use in a non-fiction piece that would bother my children, I would ask ahead of time. If they said no, it didn't get used.
I try to be sensitive, but sometimes things come out in an unconscious way. They all read my books as young teens, and sometimes they might see something that reminded them of themselves, and would be a little upset. My children are quite forgiving, though, and actually, my writing makes them proud of me. They go to my readings.
"I wouldn't be the person I am if I weren't a mother. I would be very different without children. I would still write, but not in the same way."
How did your own mother influence you as a writer -- if at all?
Both of my parents were journalists--writing was a real occupation for them. My mother didn't work when I was growing up, so one of the great influences was watching her at home and knowing I didn't want to stay at home like she did. My father isn't much of a fiction reader, but my mom has been very proud and supportive -- I thank her in my first book because I really do feel very grateful to her.
Both of my daughters are good writers and readers, and the younger one is a poet as well. How I make a living is writing, not as a therapist.
Could you have written the things you have written if you weren't a mother?
I wouldn't be the person I am if I weren't a mother. I would be very different without children. I would still write, but not in the same way. I'm very interested in families, and, of course, having your own children gives you a different take on what a family is. You learn a lot -- whether you wanted to or not: things about yourself, your childhood, your own parents.
Has there ever been something from your child's life you wanted to write about but didn't for privacy reasons?
Sure, all the time. Maybe I'll do it when they're all adults, but not in the next ten years. I've made a conscious effort to avoid certain topics and keep my kids out of my books.
Any other thoughts on how being a mother has influenced you as a writer?
Motherhood is a great gift to a writer. I'm quite interested in mothers, fathers, sons, and daughters. I get feedback that mothers are received very positively. In fact, the response I get is that mothers are a favorite character. Mothers seen from the point-of-view of a child are very one-sided. I'd much rather write mothers as full characters.
What are you working on now?
More short stories, a non-fiction book on different aspects of sexuality. I recently did a botanical illustrations piece in
The New York Times
which was fascinating, but took a lot of research. I also wrote a history of the portrait in
Vogue
.
You can read more about Amy at her website:
amybloom.com
.
**Cheryl Dellasega, Ph.D., is a mother, wife, writer, and Associate Professor of Medicine at Penn State University in Hershey, PA. Her book, Surviving Ophelia, will be published in Fall 2001 by Perseus Publishing. Her website is located at cheryldellasega.com.
---
More from Writers Write