2000 Kisses and The Perfect Gift by Christina Skye Reviews
Here are our reviews of the entertaining romance novels 2000 Kisses and The Perfect Gift. Be sure to also read our interview with author Christina Skye!
2000 Kisses by Christina Skye
Dell, Nov., 1999.
Paperback, 384 pages.
ISBN: 0440235715.
Ordering information:
Amazon.com.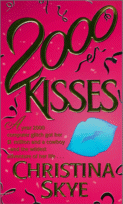 The Millennium New Year's Eve is a night of wild success for public relations expert Tess O'Mara. The elaborate launch party she arranged for a cruise line is a resounding success, and her boss tells her he has deposited a huge bonus in her account. On New Year's Day she heads to the ATM to get some money -- and gets the surprise of her life. There is an extra million dollars in her account -- surely her bonus can't be that big? Overcome by a Y2K madness, she goes on a wild shopping spree, buying clothes and a baby blue convertible. But it turns out that the money wasn't her bonus, and whoever put the money in her account wants it back -- and Tess out of the way. Concerned for her safety, her brother arranges for her to visit an old buddy of his, a former Secret Service agent who is now the sheriff of Almost, a mere blip on the map in Arizona. Tess is a city girl at heart, but the town is endearing and the sheriff is a dead ringer for Mel Gibson. Sparks soon fly between Tess and Jake McCall, but the two are miles apart when it comes to lifestyles. Tess loves her lattes, but Jake is more used to jailhouse coffee. Can the two find enough common ground to make a love that will last forever?
2000 Kisses
is a departure for Christina Skye, who is best known for her popular Draycott Abbey series (
See
,
Christmas Knight
and
The Perfect Gift
).
2000 Kisses
takes place in Almost, Arizona, a charming small town which has real heart. Tess is a thoroughly modern city girl and her interactions with the tough, rugged Jake McCall are lively, entertaining, humorous, and full of passion. Skye excels at dialogue and atmosphere, and these skills work as well in the mystical setting of the beautiful Southwest as they do in at Draycott Abbey in England. This is one Millennium scenario that most women would readily welcome. Highly Recommended.
---
The Perfect Gift by Christina Skye
Avon, Oct., 1999.
Paperback, 384 pages.
ISBN: 0380800233.
Ordering information:
Amazon.com.
New York freelance jewelry designer Maggie Kincaid was left nearly bankrupt both financially and emotionally when her father, a famous jewelry designer, disappeared in a plane crash with a fabulous fortune in gems. Nothing was ever proven, but the press still harasses Maggie about whether her father was a thief who made off with the jewels as part of some kind of con game. When Maggie is offered the chance to be the designer for a fabulous traveling jewelry exhibition, she immediately flies to England to Draycott Abbey where she is the guests of Nicholas and Kacey Draycott. At the Abbey, she feels a connection to the past and starts experiencing disturbing visions. Enter Jared McNeill, hired by Nicholas Draycott to protect Maggie from the various people who seem to believe she has the jewels supposedly stolen by her father. Maggie doesn't want a protector, but Jared is insistent. Soon they are surrounded by violence, intrigue, and a mind-numbing passion whenever they are together. Jared has suffered horribly in the past and his demons are as deep and dangerous as Maggie's. Together they must find out who is stalking Maggie, discover the secret of the missing jewels -- and stay alive to tell the tale.
Jared is a wildly attractive hero with some unusual skills, and he's a perfect foil for the inhibited jewelry designer, Maggie. The beloved Wishwell sisters make an appearance, as well -- anytime they show up, you know you're in for a good time.
The Perfect Gift
is appropriately named; any romance lover would delight to find this book in her stocking on Christmas morning. Don't miss it.
---
More from Writers Write